Zerodha Smallcase is a nice initiative towards thematic investing by Zerodha.
"At smallcase, we identify themes — driven by long term trends, Govt. policy reforms, sectoral shifts, technology, culture, demographics — that we believe will catch on in the next few years. We have come up with over 40 of these themes (we call them 'smallcases') and created portfolios of stocks around them. Each smallcase holds between 10–20 stocks, and is intelligently weighted based on the theme it reflects."
Smallcase looks great but it is not worth trying. They are more like a better version of Equityboss.And anyways it is free to see in which stock the investment goes, so instead of being lazy just buy them if you do so.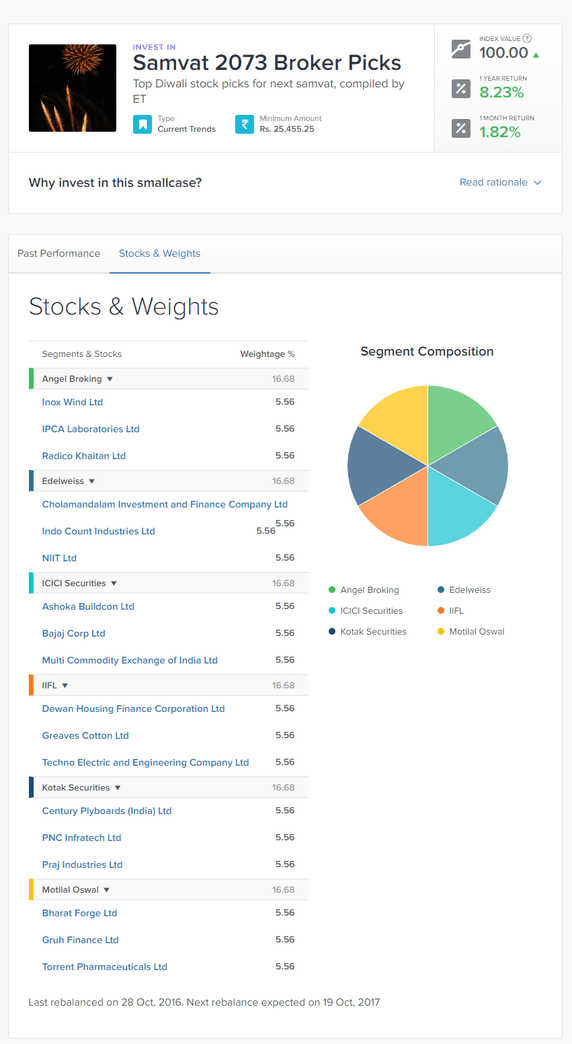 But, Personally I will say either do stock market properly or leave it to a dedicated portfolio manager. Never invest in a company without knowing 100% of it. If you ask me from the above small case which came during Samvat, I will not choose
Inox Winds – That company is fundamentally out of league; doesn't pay dividends; neither pays tax. It looks a great short term buy on technical. So buy it if you are going for short term.
Cholamandalam – I have huge shares of Bajaj Finserv and will continue to hold so.
I have Dewan Housing, Radico Khaitan, Torrent Pharmaceuticals and Bharat Forge in my bucket but I am unsure on the rest.

So best suggest is to pick them and study first to put them in your case. The bad thing is when someone choose the smallcase, speculator tends to choose the smallcase which gave highest return in the last year. I tried a random zerodha smallcase to see how the Zerodha Kite API works but it turns out as disaster as of now.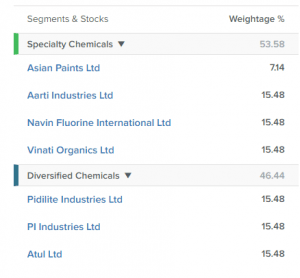 But I managed to get rid of it by averaging out at lower levels like I bought another 4 stocks of Asian paints in the dip when it tanked over 10%.
So zerodha smallcase is not at all recommended unless you know what you agree personally to buy each of those stocks