TVS Srichakra Ltd. is one of India's leading two & three-wheeler tyre manufacturers. Being a part of TVS Auto Ancillary Group (Turnover of USD 6.0 billion) founded by T.V. Sundaram Iyengar, they continue to honor the value system and the rich heritage of their parent company.
Over 30 years, they have leveraged their expertise to ensure that their every ride is as safe as it is sensible.
With state-of-the-art manufacturing units at Madurai (Tamil Nadu) and Rudrapur (Uttrakhand), spread over 2.9 lakh sq. meters, they manufacture a prolific range of tyres: Two & Three-wheeler tyres, Industrial pneumatic tyres, Farm and implement tyres , Skid steer tyres, Multipurpose tyres, Floatation tyres etc.
Being the leading choice of Original Equipment Manufacturers across India, they also supply our products to major vehicle manufacturers across the country:
Atul Auto Limited, Bajaj Auto, Hero MotoCorp Limited, Honda Motors Cycles & Scooters India, India Yamaha Motor Pvt. Ltd, LML, Mahindra 2wheelers, Piaggio, TVS Motor Company Ltd.
They cater to the domestic after-market with a strong support network of over 2400 dealers and 34 depots.
Today, TVS Tyres cruises across the globe as well, extending its presence through export to USA, Europe, South America, Africa and Australia.
The rationale behind the trade :
1. The stock has been making significant Higher Tops Higher Bottoms in the long term which indicates that value buyers are sitting like hungry wolves to enter this script. Currently, the price is at a probable higher bottom.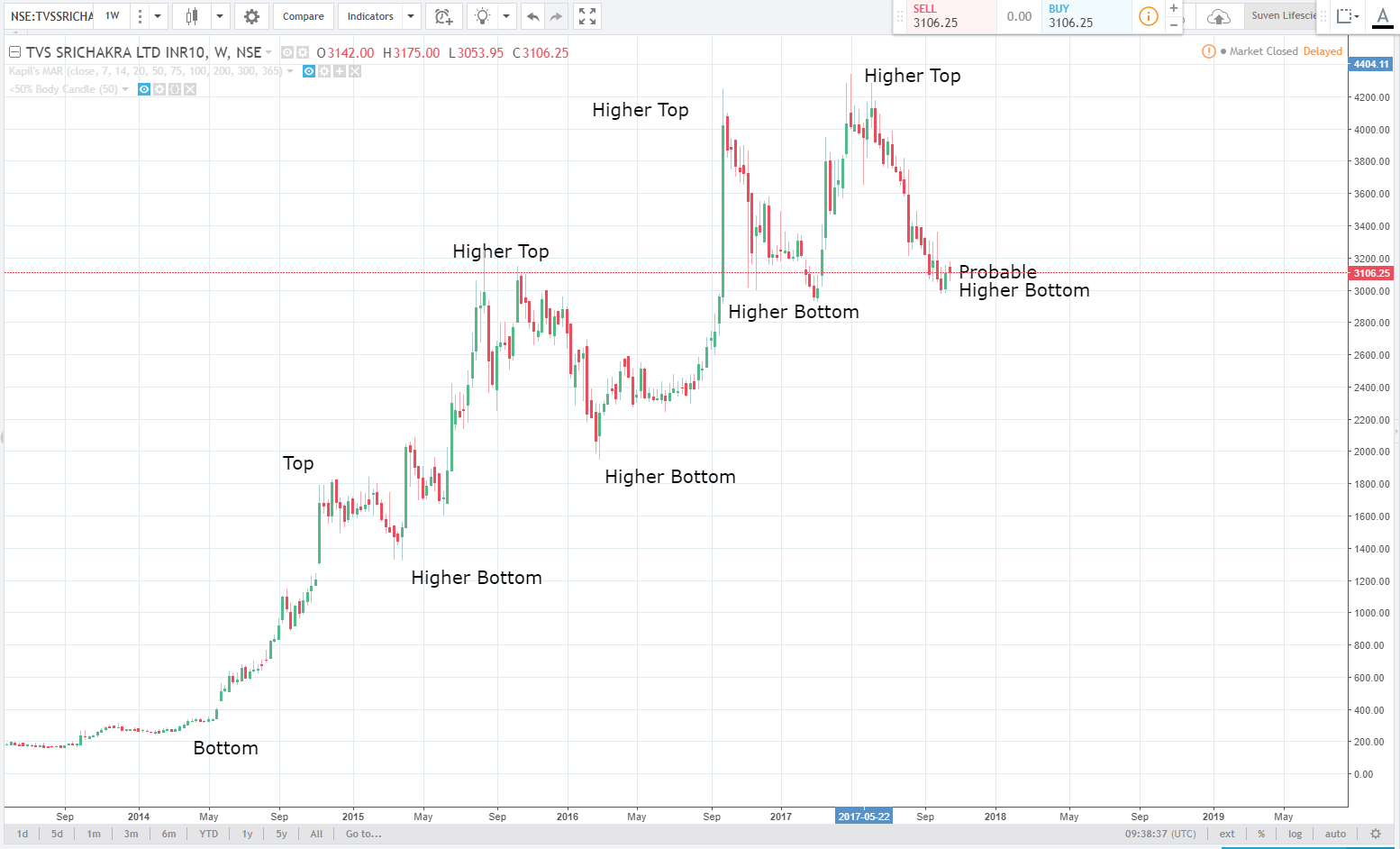 2. The stock personality plays an important role when it comes to picking a stock at the right time and price. These are the favored spots for the smart money to enter with a long-term view. The stock personality of TVS Srichakra is 365 EMA. This is the average price in the last 1 year.
Currently, TVS Srichakra is trading below its 365 days EMA and buying at the current price it will be a steal!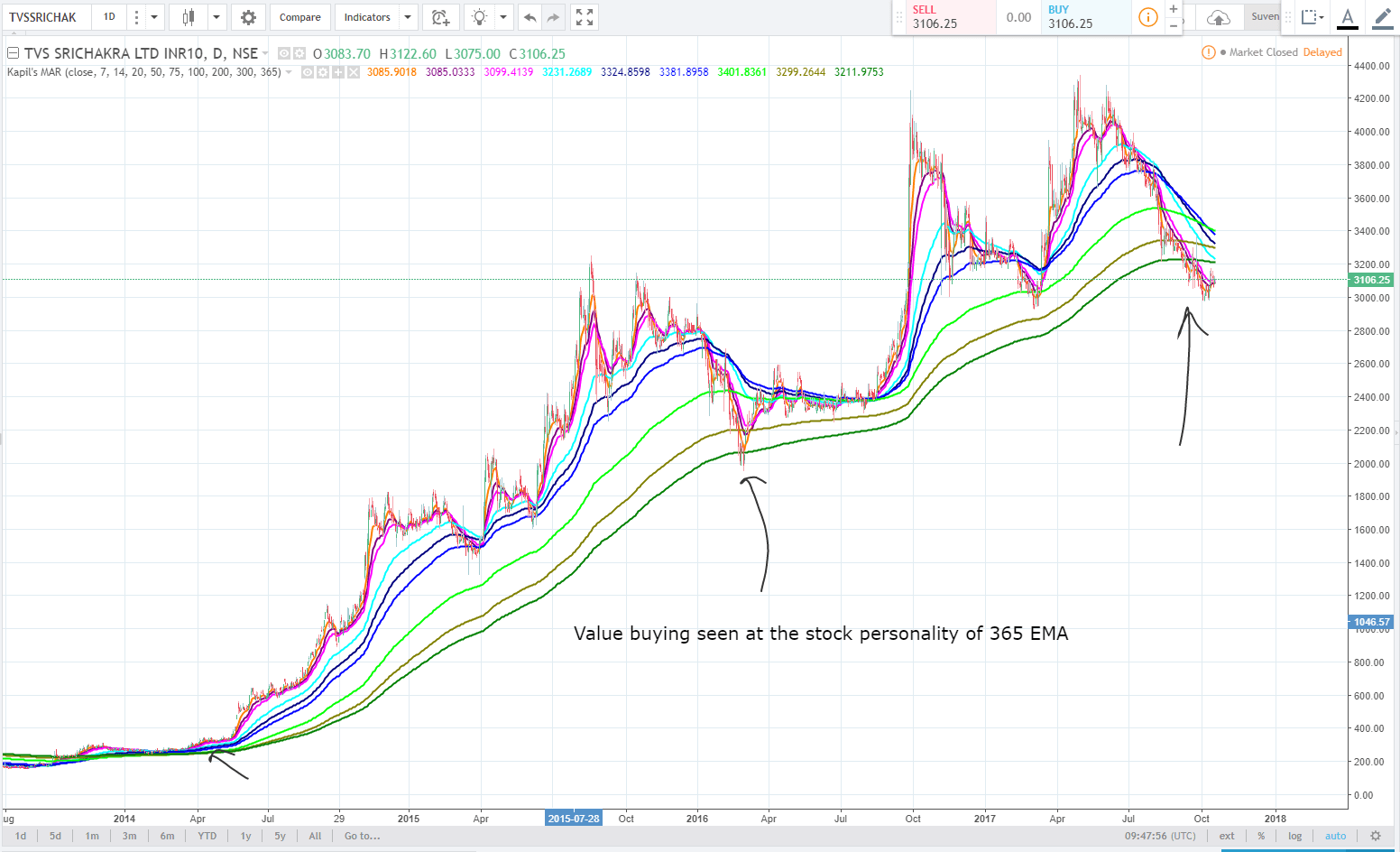 3. A concept which is part of the Dow Theory, reversal of polarity, is observed in TVS Srichakra at the current prices. The level of 3000, which previously acted as a resistance is now acting as a support for the second time. This is an indication of the heavy presence of buyers.
The demand may kick in sooner or later thus taking the prices higher.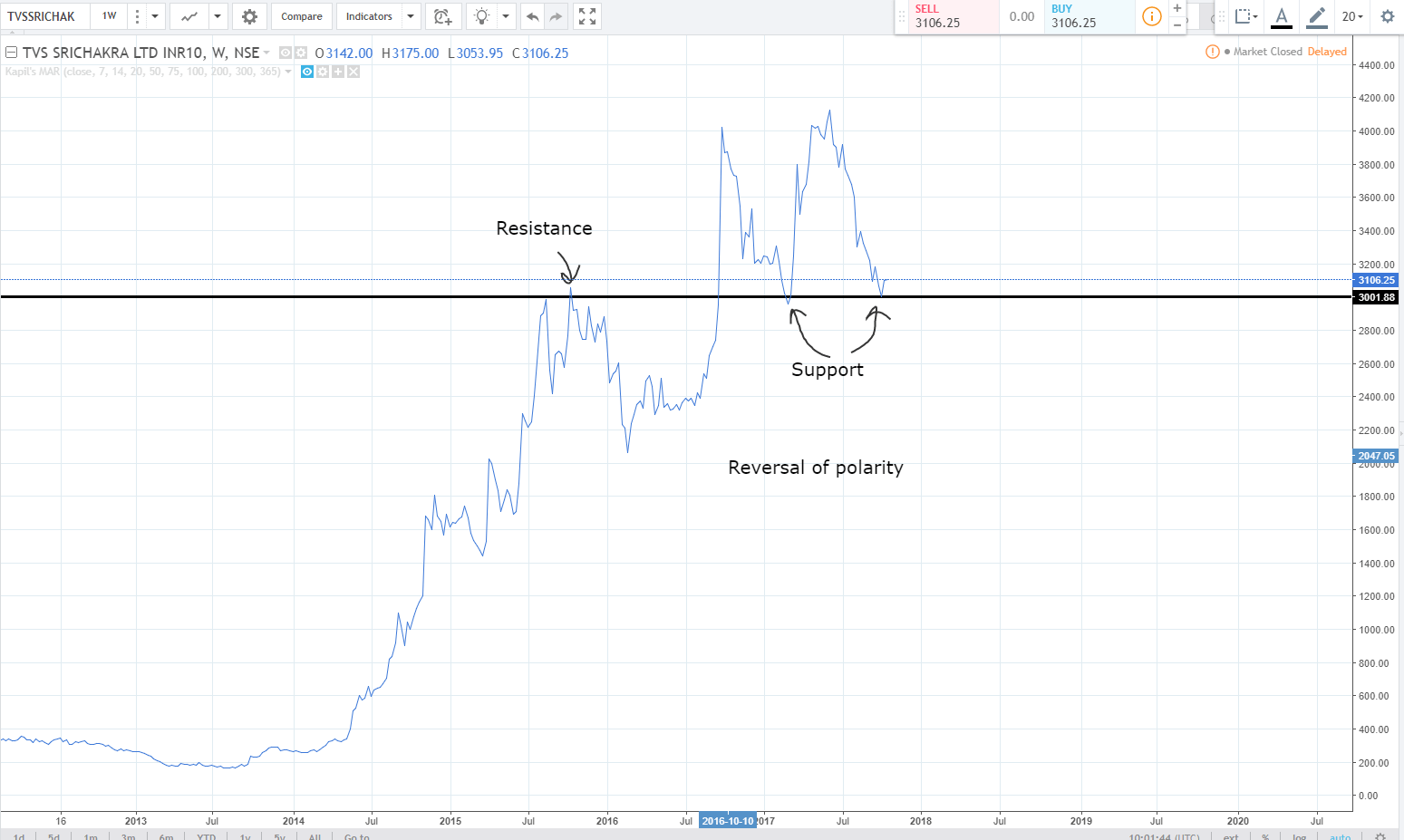 4. The price is trading in a weekly demand zone ( also within a monthly zone ) of 3095 – 2925. This is the zone with the highest propensity of price shooting up in a short span of time due to the heavy imbalance in demand-supply. Demand overpowers supply in these weekly and monthly zones.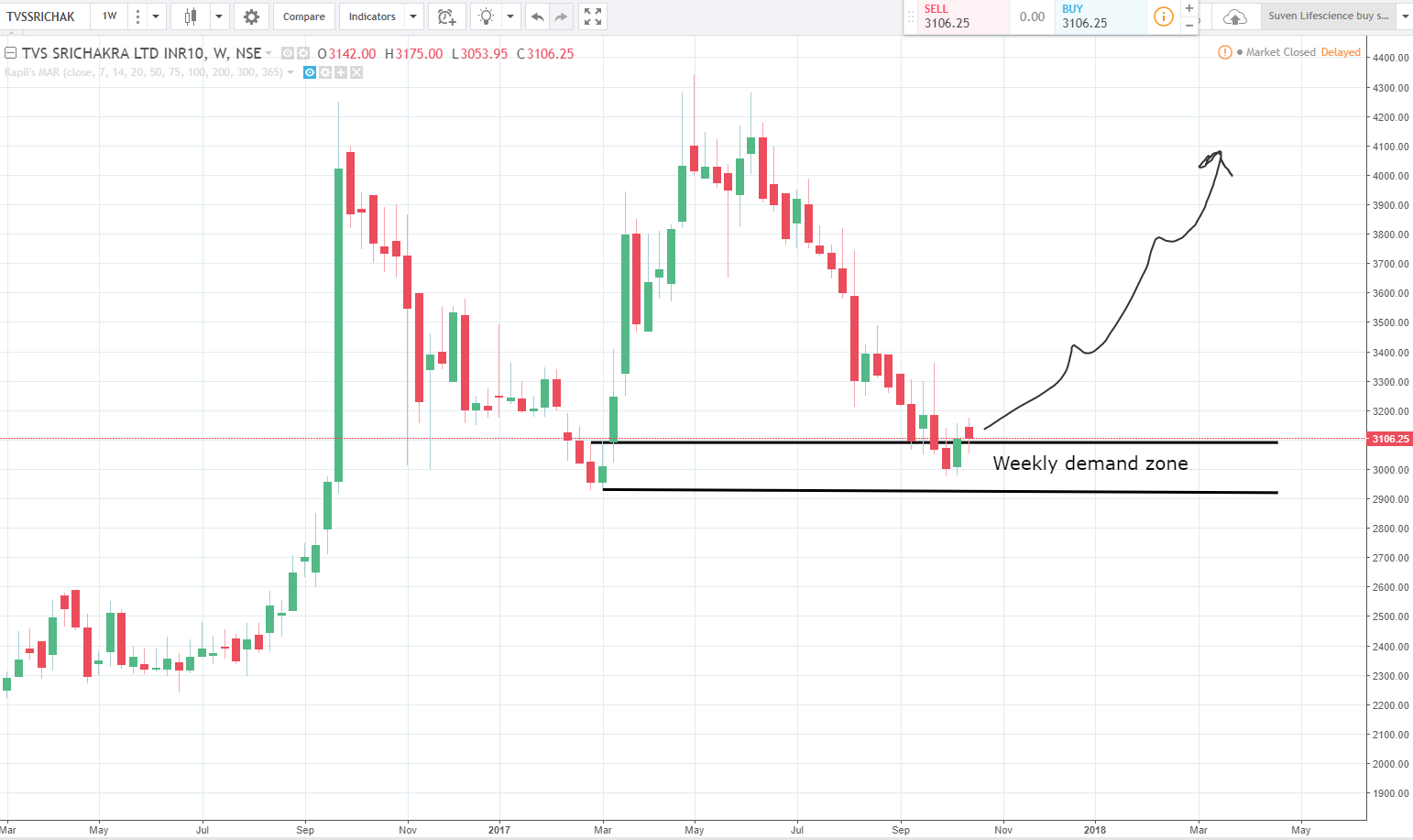 5. To figure out what kind of targets we can aim for, we will use trend analysis. An uptrend means a consistent higher top higher bottom formation. Till date, there is a proper long-term uptrend and this will most probably continue henceforth. For the price to make a higher top, it must cross the level of 4342 which is 40% from the cmp of 3106.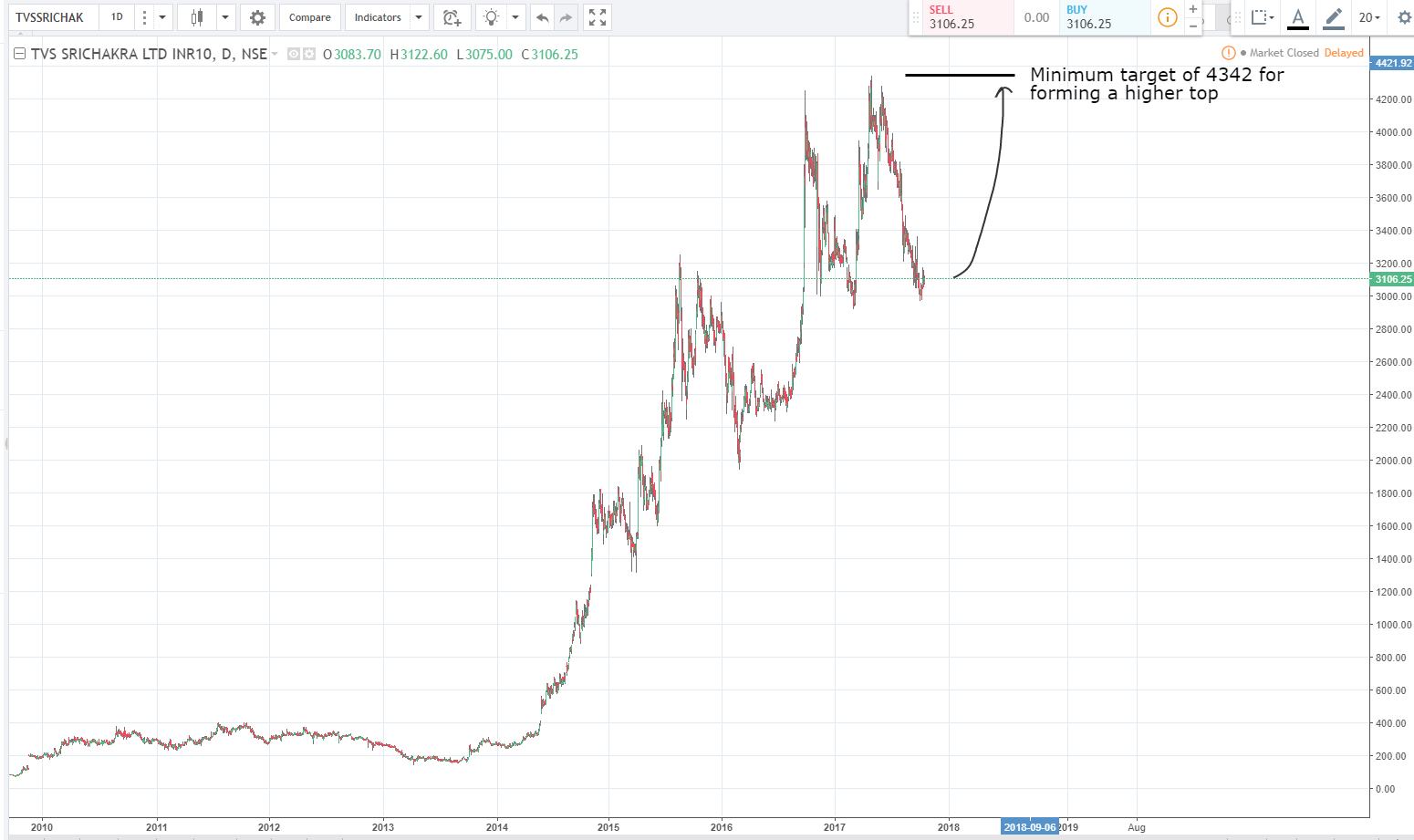 Once a breakout is achieved above 4342, the price can assume a target of 5000 in the long term. The most important point to note is that the stop loss for this trade is below 2900.
This gives a staggering reward of 1236 points and a risk of 206 points thus making the risk-reward at 1: 6!
For more details on this gem of a company, Click here!