In Muhurat Trading, Muharat means 'an auspicious hour'. This is a century old tradition. Previously the family members of stockbrokers join the prayers held in the broker's office. The first token order, that is usually a 'buy'.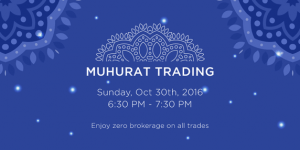 Gujarati and Marwari dominates the Indian Stock Market. Their new financial year begins on Diwali. Old account books are closed and new ones are opened as the new year begins. In their calendar, it's called Samvat (Samvat means 'era').
A coin – which signifies wealth in Hinduism (well, it's wealth anyway ha!) – is placed on the account books before the Puja. Stock brokers perform 'Lakshmi Puja' at the exchange and the customary Muhurat trading takes place. It's like putting a dematerialized coin. Most of them place token orders and buy stocks for their children, which are held for the long term and sometimes never sold. Though most retail traders book small profits and the Sensex ends up on a positive note. So, it always has bullish nature! If it ends in bearish note; you may consider a longer down trend.
Most of the brokerage firms like Zerodha has a tradition of waives off all brokerage charges on this day too. Cheers!