This portfolio is created documenting short term stocks to buy in February with a time horizon of 2 months and with an amount of 1.5L.
This may not be the answer you want to hear, but I wouldn't recommend any stocks with a 2-month time horizon. The window of time is much too small to invest with a high confidence level that you'll actually make money during that time.
That's what industry leaders say if you ask him short term stocks to buy. But I will say, here is –
Short term stocks to buy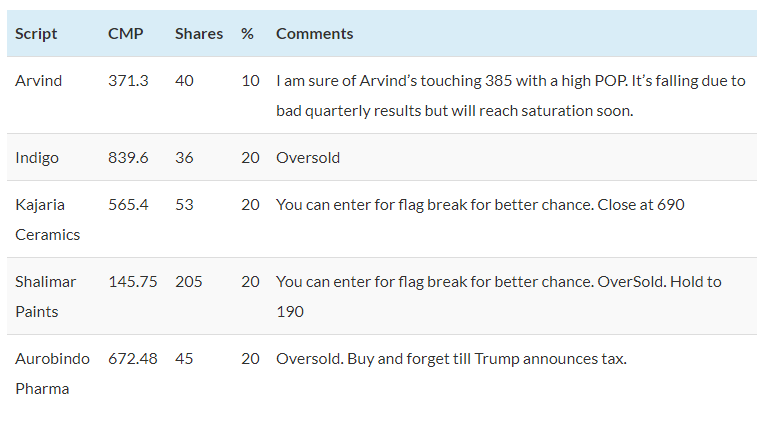 But putting money in stocks with such a short time horizon would be similar to taking your money to the nearest casino. But again, it's not a pure gamble. There is a term called probability!
Stock Portfolio Parameters
Amount to Invest – 1.5 L,
Time Horizon – 2 months
Risk Appetite – High
Stock Analysis
Keep 10% to average out

Arvind

if and only if it comes 10% lower than the current price. A reason of choosing this company is mostly technicals and it is a low beta stock. Another primary reason is healthy dividend payout of 17.82%

Shalimar Paints

is considered as fundamentally poor stock. You can swap with ONGC if you want. The reason for choosing Shalimar Paints is titanium dioxide's price. It's linked to crude oil.
ONGC-HPCL merger's volatility will affect the short term zone. So I didn't write ONGC there.

Indigo

is too much oversold. The rest of the airline stocks like Spicejet and Jetairways already rallied a lot. Post demonetization, this stock is still there to ride!
Update (1/4/17)
Today the holding period ends and it looks we have achieved our target of 10%. Here go the results.

Happy Investing!