The stock analysis has been done on Feb 25th when it was asked in the Unofficed channel to share their portfolio and risk profile if they were to rebalance their portfolio. But I was looking for core portfolio analysis only. Do refer The Core-Satellite Portfolio if you are unaware of this Modern Portfolio Theory.
Unfortunately for those that need to make money fast, the markets tend not to be the best bet.
But I won' t say that. With proper technicals and tracking of a news event, the share market is also safe to trade Intraday as well. A lot of our target depends on what the goals are for the money and whether you can afford to lose a large portion of it or not.
Investment Portfolio
Capital Invested: 2,133,000 INR
Risk Profile: Moderate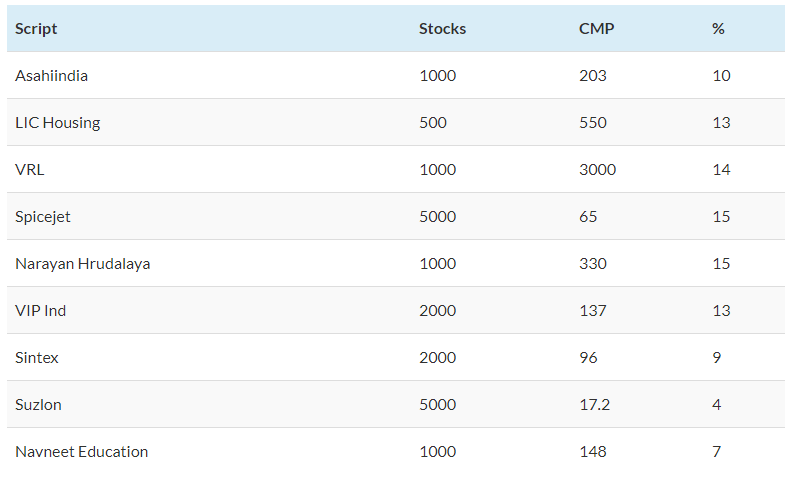 Stock Analysis
After demonetization,

LIC Housing

as strong upside and will post stellar quarterly returns.

Spicejet

has crucially linked with Crude Oil and like Asian Paints, it has a strong upside. They will expand well as they have cut costs in many sides.

Suzlon

is not recommended. Dilute the allocation to 3%. Suzlon will get back to back order.
Further Comments
The primary stock analysis says that – the portfolio is not diversified which is good (well that's contrary to other people).

Swap VRL with VGuard Industries or Dewan Housing.

No logistics company. Though GST will impact but it is very the very tiny impact if you calculate and the market has already appreciated it. Anyways logistics is doomed. 14% allocation is very bad!

Narayan Hrudalaya –

Reduce its stake by half and invest the half towards Hero MotoCorp. But wait for investing till MACD pushed a BUY or there is a tiny correction. Actually, you can remove Narayan Hrudalaya totally and swap the other half allocation towards

Sun Pharma. EMA is bearish; so hold a bit more before investing.

Get rid of Sintex. Get ITC.

ITC has recently got invested from LIC. So after this tiny correction, you can expect it to rise up as LIC's investment is a green sign from Government.
Net Returns
On a capital of 2,133,000 INR, the current profit is at 86,925.00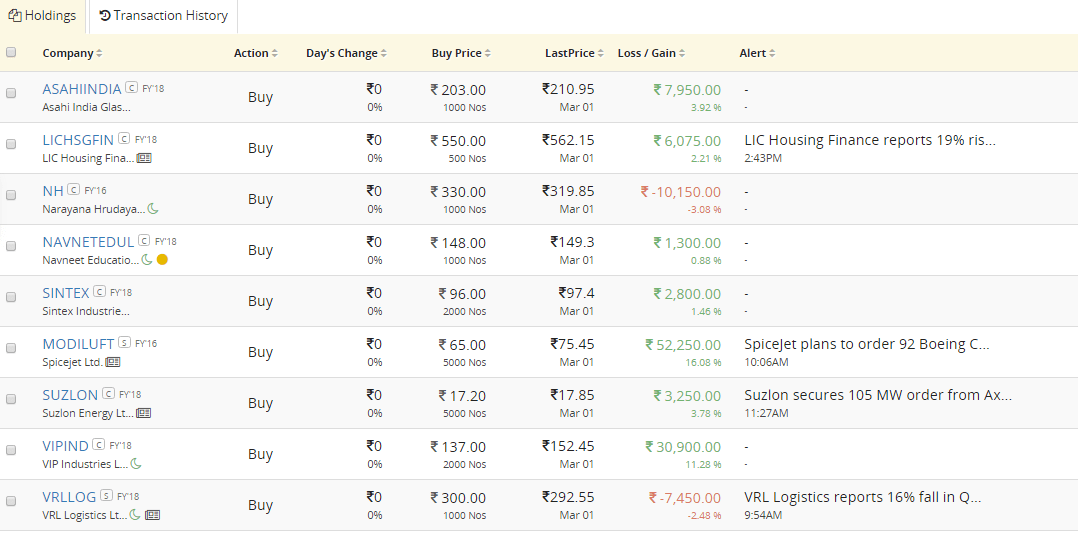 Please comment if I have done anything wrong with the stock analysis. I shall be in debt if you find me flaws.