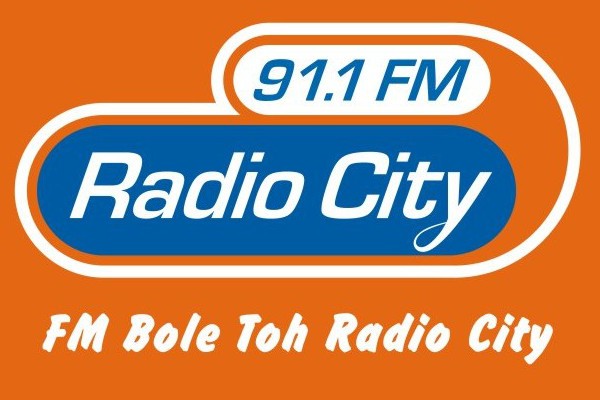 This report of Music Broadcast IPO is also a good example of Value Investors for researching companies and make a decision on buying them for listing gain or long hold!
Music Broadcast Ltd(name changed from Music Broadcast Private Limited) is engaged in the business of operating private FM radio stations under the brands "Radio City" and "Radio Mantra". The company has grown its presence from four cities in 2001 to 29 cities in 2016. Eight "Radio Mantra" stations were transferred from another company (SPML) which got merged with it in recent years.
The company acquired 11 additional radio stations during the Phase 3 auctions. The New Radio Stations will be located at Patna, Madurai, Nasik, Kolhapur, Udaipur, Ajmer, Kota, Bikaner, Jamshedpur and Patiala and, includes a radio station in Kanpur, which was recently launched. The company is in the process of operationalising these new Radio City stations.
Under the Phase III Policy the license period for radio stations has been increased to 15 years and radio stations are now permitted to carry news bulletins of AIR and also network their radio stations in all cities. We have in the past networked our stations located at Sangli, Nanded, Jalgaon, Sholapur and Akola in Maharashtra and operate it from a single hub at Ahmednagar. We now propose to use this experience to network some of our stations in other states as well.
In addition to the above, the company has sales alliance with other private radio stations and it also runs online web radio stations.
We also have sales alliance with ITM Software & Entertainment Private Limited ("ITM") which operates "Suno Lemon 91.9 FM" ("Suno Lemon") in Gwalior and Ananda Offset Private Limited ("AOPL") which operates "Friends 91.9 FM" ("Friends FM") in Kolkata. We also operate our online web radio "Fun Ka Antenna" on our web portal Online Radio – Popular Music Genres ("Planet Radio City"), which was launched in 2010. We operate 31 web radio stations through Planet Radio City in six languages, which has a listenership of 12.20 million as on September 30, 2016 (Source: Lasopi Data). Our web radio stations offer 24 hours of internet radio along with few live RJ hosted shows. We also have a 'Planet Radio City' mobile app that plays various stations such as 'Radio City Freedom', 'Radio City Electronica', 'Radio City Metal' and 'Radio City Smaran', in various languages, on mobile and other smart devices. With respect to our online web radio business, the operation, scheduling of music, promotions and advertising is similar to terrestrial FM.
Business Overview
Our radio content typically comprises of RJ shows and film music. We have also created popular radio shows such as 'Love Guru' and 'Kal Bhi Aaj Bhi' and pre-programming features such as 'Babber Sher' and 'Joke Studio'. 'Radio City Super Singer', a popular singer talent hunt on radio was launched by us in 2011 and continues till date. We have also launched 'Gig City' a unique initiative which broadcasts music concerts simultaneously across multiple radio stations. In our endeavour to recognise independent singers and musicians, we have initiated 'Radio City Freedom Awards' which has completed three years and facilitates independent music across genres and languages.

Radio City has won various accolades in the industry. Our Company has been awarded under the category 'Best Talk/Interview Special' and 'Community Service' by the New York Festival Radio Awards in 2016. Our Company has also been awarded under the category 'Best Breakfast Program (Telugu)', 'Best Radio Promo – InHouse', 'Best Radio Programme Packaging', 'Best Interactive Idea', 'Best Media Campaign', Excellence in Radio Awards 2016 by IRF. Our Company has also been ranked one in the 'Media Industry' and rank two in 'Best Companies for Hiring and Welcoming' categories by Great Place to Work in 2015.
In 2015, Jagran Prakashan Limited(JPL) – a listed company – acquired the majority stake of Music Broadcast Limited through its direct and indirect holding in MBL's parent companies Spectrum and Crystal. In 2016, through a "scheme of arrangement" the radio business of MBL's parent SPML was demerged and later merged with MBL's radio business.
JPL, one of the leading media groups in India, is a very profitable company which publishes, among others, the famous daily "Dainik Jagran". JPL is an experienced promoter in the media business and is likely to operate MBL very efficiently.
The radio industry is expected to grow at 16% per year till 2020.
We are the first and oldest private FM radio broadcaster in India with over 15 years of expertise in the radio industry. During the period of Fiscal 2014 and 2016, our revenue from operations grew at a CAGR of 22.76% Amongst the private radio stations, we have consistently been the number one radio station in terms of average listenership share (in percentage) in Bengaluru and Mumbai with 24.1% and 17.2% respectively. (Source: RAM Data, Mumbai / Bengaluru: All SEC 12+, Daypart: Mon-Sun 12:00 AM-12:00 AM, % Share, Place: All, Period: Week 01 2013 to Week 37 2016, City: Bengaluru and Mumbai; Period: December 30, 2012 to September 10, 2016). We are also present in 12 out of the 15 most populated cities in India (Source: Census, 2011). As on March 31, 2016, Radio City reached out to over 49.60 million listeners in 23 cities covered by AZ Research (Source: AZ Research Report). Further, we have also been ranked one in Mumbai and Bengaluru and ranked two in Delhi in terms of 'top of mind' brand recall for the last twelve months period ending August 31, 2016 (Source: AZ Research Report).

We have a pan India presence with radio stations in 29 cities. We also have sales alliances in two cities. We have won bids under the Phase III Policy to expand our presence to 11 additional cities across India which are primarily located in tier-I, tier-II and tier-III cities. Also, our Existing Radio Stations have a license period of 15 years commencing from April 1, 2015 and our New Radio Stations have a license period of 15 years commencing from the date of their operationalisation.

Through Planet Radio City, we operate 31 web radio stations in six languages. Planet Radio City has a listenership of 12.20 million as on September 30, 2016
Sales Team
We are supported by a dedicated sales team which comprises of 169 employees as on September 30, 2016 across India. Our sales team is complimented by 73 sales representatives who are on the rolls of external agencies. Our large sales team helps us to reach out to a wider advertiser base and helps us to establish and maintain strong relationships with advertisers and advertising agencies. We have also created an in-house creative solutions team, namely, 'AudaCity' to provide customised advertising solutions across on-ground, on-air and digital media at different locations to address the needs of our advertisers. This has resulted in a growth in our advertising volume in the top 14 cities in which we operate from 48.21 million seconds in Fiscal 2014 to 63.72 million seconds in Fiscal 2016. (Source: AirCheck Dat
Operational system
We are a system driven organisation. We have engaged independent agencies such as AZ Research, RAM, AirCheck and Ormax Media to understand music, content and time-band preferences of our target audience and to monitor our performance in the radio industry on various parameters. Through the data provided by these third party research agencies, we are also able to develop content to suit the local preferences in each city. We also closely monitor the songs played at our radio stations and every song is mapped on a performance index which takes into consideration a song's familiarity, likability and listenership fatigue. A song would need to meet a particular score in order for it to be played on our radio stations. Our business operations and processes are carried out by a professionally managed team.
Key risks
The company is heavily dependent on advertisements as its main source of revenue

. Any reduction in ad-spend by the advertisers or a reduction in effective advertising rates due to market forces, competition, excess inventory, inability to maintain market position or the loss of advertising customers could seriously hurt the profitability of the company.
The company is involved in various litigations pursuant to the Copyright Board's order dated August 25, 2010, granting compulsory licenses for the broadcast of sound recordings by radio companies.

Permission granted under Phase III Policy is valid for only 15 years.

At the end of 15 years, the company will need to renew its licenses.
Operationalizing and managing the New Radio City Stations acquired under the Phase III Policy may prove to be difficult.

The FM radio broadcasting industry is highly competitive.

"We operate in a highly competitive industry. In the markets where we operate, and especially in the three major metro cities of Delhi, Mumbai, and Bengaluru, we face intense competition from other private FM radio operators for listenership, utilization of available broadcasting time for advertising, and advertising rates. For details of our competition, see "Our Business" on page 100. As the private FM radio broadcasting industry grows with the commencement of Phase III Policy, it is expected that the competition in the industry will intensify with new entrants and new frequencies obtained by existing players competing with us. Under the Phase III Policy regime, our existing competitors will further expand their operations and we will enter into newer markets where we will have to compete with well-established competitors."
The business is substantially dependent on Government policies.
Financial analysis
Balance sheet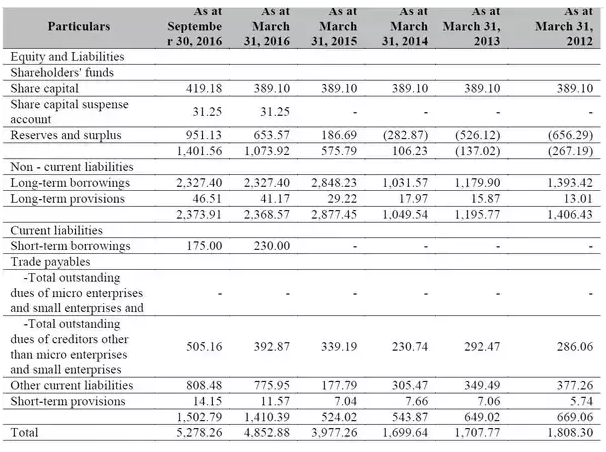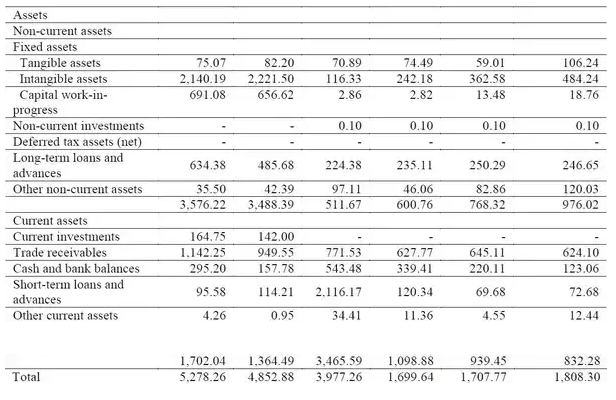 The company had a negative net worth during FY12 and FY13. For H1 FY-17 the net worth stands at 140 crores.
Debt/Equity has improved over the last five years. The company's working capital requirements are small, but its CapEx requirements especially "intangible assets" are large.
Intangible assets are mostly migration fee from phase 2 to phase 3.
During the Fiscal 2016, we have paid a migration fee amounting to ` 2,210.11 million for migration of the Phase II Radio City Stations under Phase III Policy and ` 625.70 million for acquiring the New Radio City Stations (the "Entry Fee")
The next Migration fee(for existing stations) will be paid after 2030(15 years).
Income Statement
The company has consistently grown its revenue at 17% CAGR and EBITDA at 27% CAGR. The EBITDA margins have improved from 22.76% in FY 2012 to about 35% now; these margins won't improve much from these levels, so EBITDA growth will get aligned with revenue growth.
Cash Flow Statement

The company is generating a good amount of cash from its operations. Since it needed to "migration fee" and acquire new stations, the cash flow from investing activities has been negative for the last two years, which was partially funded by debt.
Since most of the CapEx have been done now, the company should start generating a decent amount of free cash flow in the coming years, which will be probably used for debt reduction and dividend payment.
Valuation and comparison with ENIL
Outstanding shares before the issue = 4.5 crore
Price band: Rs 324–333 per share
Fresh issue = 400 crores ( proceeds will be used for debt reduction)
So the company will issue around 1.2 crore new shares at the upper price band.
Expected outstanding shares after issue = 5.7 crore
Expected market cap = Rs 1900 crore
Expected FY-17 profits = 65 crore
Expected FY-17 EBITDA = 95 crore
There in only a single listed competitor "Entertainment Network (India) Ltd" which operates FM stations under the "Radio Mirchi" brand. ENIL is almost double the size of MBL. MBL is growing faster than ENIL and has higher operating margins than ENIL.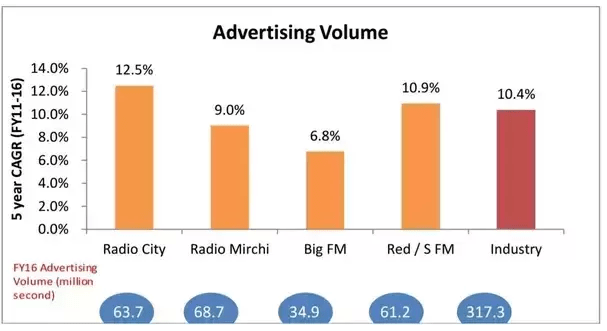 Radio City has shown higher advertising volume growth than Radio Mirchi over the last five years.
ENIL has purchased 21 new radio stations in phase 3 auctions.

Based on the numbers, it seems that Music Broadcast is coming at a lower valuation compared to ENIL.
We should keep in mind that MBL will have to face pressure on EBITDA margins in the coming quarters as the new stations would demand additional investments and expenses.
Conclusion
[sociallocker]

From listing gain perspective Music Broadcast IPO seems to be better, while in long term D-Mart IPO can create more value.

[/sociallocker]