Why the sector is falling
Synthetic Nature with Nifty Realty – The tile industry's growth is synthetic with the growth of real estate sector. The best way of reflection is stock prices. Post demonetization, we can see a huge rally on NIFTY Realty stocks which tanked post-January.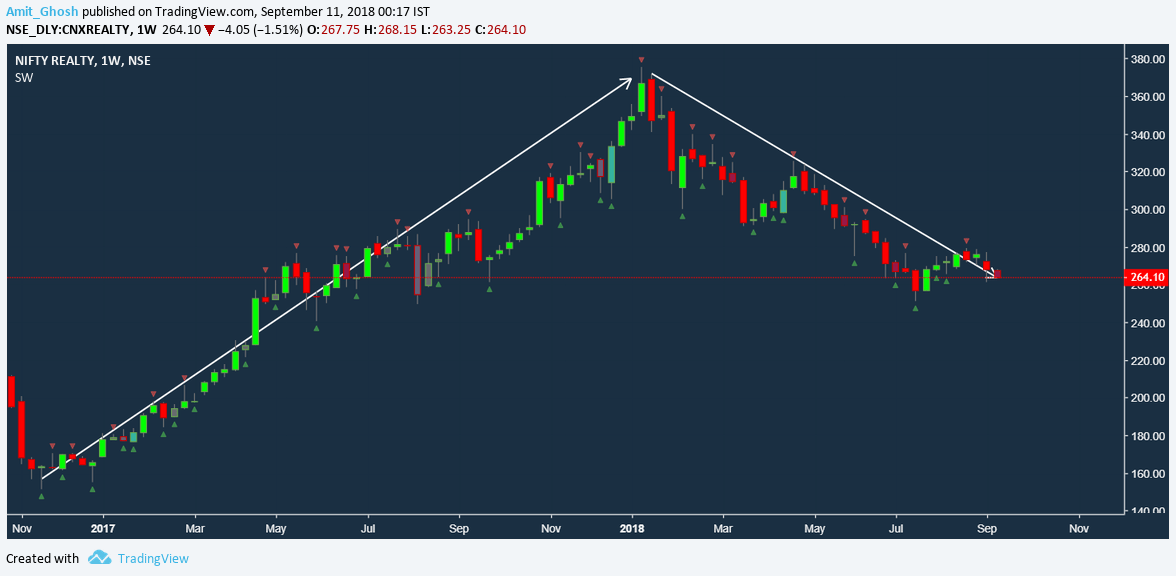 The same story followed in Kajaria Ceramics as you can see from the chart below –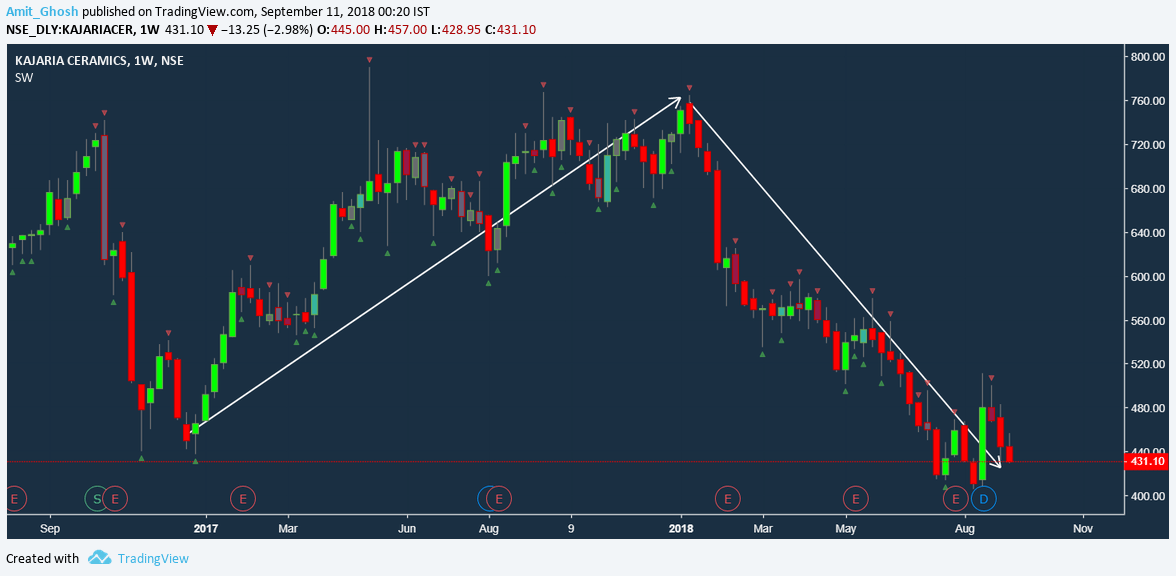 Any slowdown in the real estate sector will dampen growth prospects. Also, it is a politically favoured sector. All politicians love to force the real estate and affordable housing theme. So it gives small up move on pre-budget, pre-election rally.
---
Increased compliance under the goods and services tax regime was expected to hurt smaller tilemakers and aid larger listed peers in the mostly unorganised market. That hasn't panned out as foreseen.
Unorganized Sectors and GST – The institution to retail sales ratio is around 1:3. GST resulted in MSME sector getting impacted which is a majority of the company's retail buyers. As a result, they postponed their purchases of tiles –impacting sales volumes. Small unorganised dealers are 60% of the industry and can undercut bigger peers as they pay no tax.
---
Moat and Brand Awareness – Neither The branding is not powerful nor they have a monopolistic moat. If we analyse Auto industry, Maruti means something to commercial vehicle and Exide has a strong brand as battery maker. In FY18, Kajaria invested Rs 1.05 bn in branding and awareness campaigns.
Akshay Kumar is the tile brand ambassador and Anushka Sharma is the brand ambassador for its Kerovit brand. On top of it, 30 airports got advertised. As usual, all ceramics players followed the same. It put a dent in the revenue! It is definitely good for the longer period.
---
LNG Volatility – The cost of natural gas affects the industry as it is used for drying and heating the tiles. The commodity cycle seems to be bottomed out. Although the impact is smaller, it dents the profit margin too!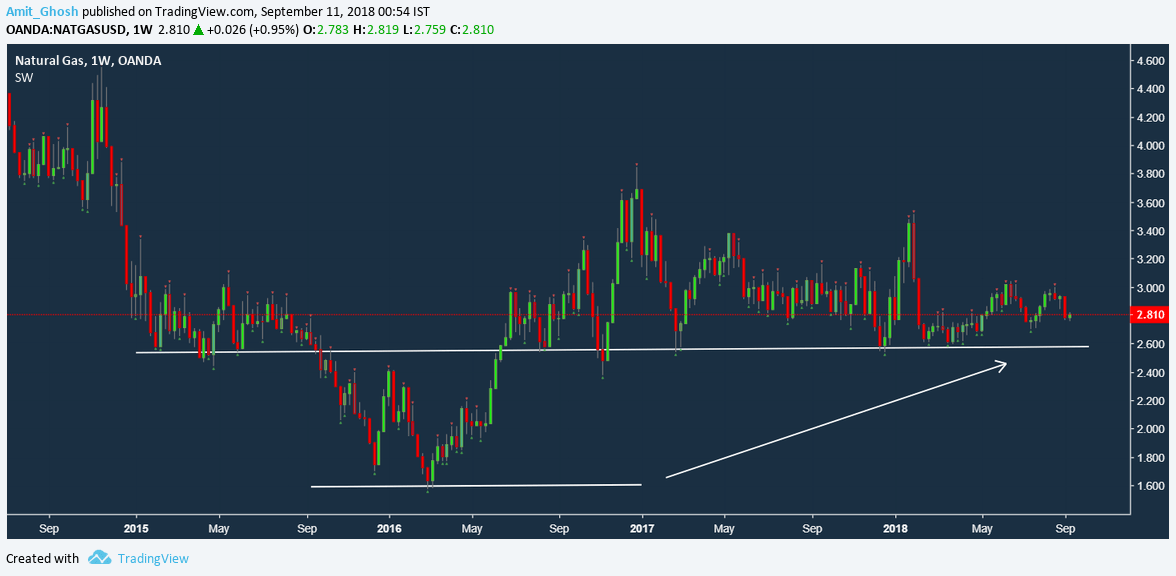 ---
Realization – Because of GST issues as mentioned above and real estate downturn, the demand shrank leading excess supply. Average realization fell. The profit of all big companies – Kajaria, Somany and Asian Granito in the quarter contracted as they can not increase the product price despite GST and Natural Gas because of competition. Profit shrank!
---
USDINR – The Rupee is falling. About 45% drop in Lira has reduced the purchasing power of importers there. Turkey also constitutes 5-7% of export of ceramics from Gujarat. The strengthening of Dollar and weakening of Rupee and other currencies have hit the export business badly.
---
Time to Buy?
Fundamentally,
The long-term beneficiary of e-way bill & GST implementation as it would reduce the pricing differential between organised & unorganised tiles. Good.
The Government's incentives like affordable housing and toilet construction drive are expected to drive the demand. Good.
Demand pickup will be slower than expected. Bad.
[sociallocker]
Margin Pressure will continue. Bad.
It is diversifying into multiple businesses. Like Kajaria started plywood business. Good.
[/sociallocker]
Valuation-wise,
Cera Sanitaryware is more attractively priced as it is not in FNO section, so the market has less aggressively priced the futures earnings.
Kajaria is attractive due to current crash!
Pokarna, Asian Granito is smaller market cap companies and valuations change sharply based on their earnings which is not good this quarter.
Technically,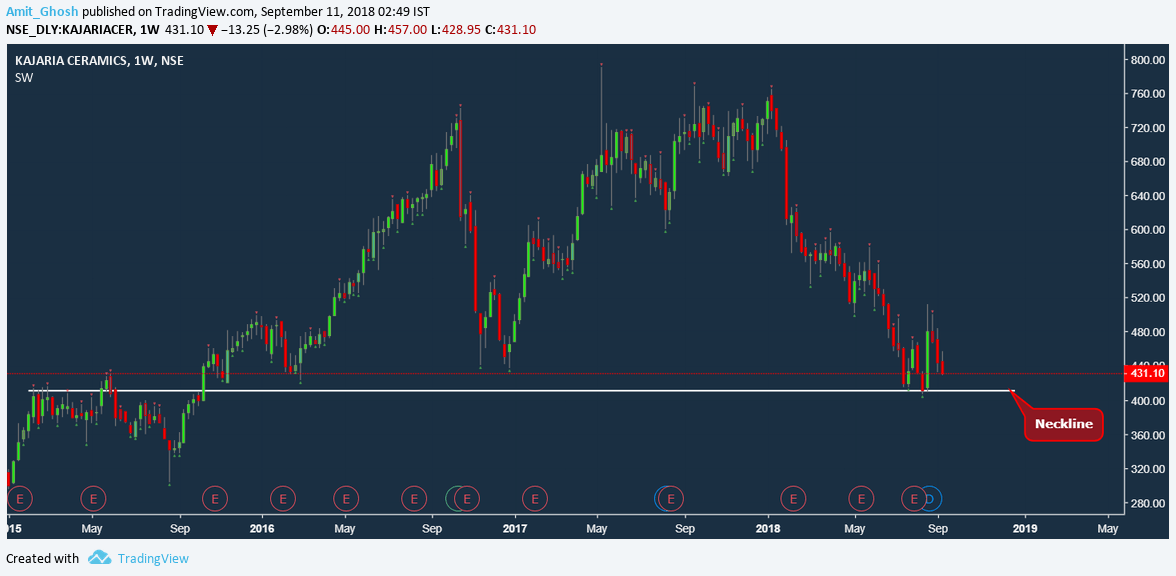 It is in a downtrend and currently in support. One should allocate half as of now and wait till it gets momentum (read, breaks 500). Personally, it is a good stock for swing trading with small stop loss.
---
Expectation –
This is an alternative fixed deposit considering the industry to grow at 10% annually but the current price crunch makes it more attractive. Also, Election is coming!
One can construct covered call pledging the shares to take maximum benefit for the consolidation.