Kushal Tradelink is a company which went from 60 to 565 in last 1 year. That's a spectacular journey. However I don't track this company, but I did have a look at it.
From its website I found the company came with its IPO in 2013 on the BSE SME platform and surprisingly in just two years it migrated to the main BSE platform.
Kushal Tradelink was incorporated in March 2000 as private limited company with registered office in Ahmedabad by 3 brothers of Agrawal family as by Mr. Sandeep Agrawal, Mr. Mahendra Agrawal and Mr Manoj Agrawal, under the flagship, leadership and guidance of Mr. Tulsiram Agrawal, who was engaged in trading of different kinds of papers since 1965 and started the business with the name of M/S Saraswati Trading Co. operating from Ahmedabad only.

The Company was converted from Private Limited to Public Limited company by passing of Special Resolution by Shareholders as on 15th January 2013 and Later came with IPO and subsequently got listed its share on BSE SME Platform on 4th September, 2013. With effect from 9th November, 2015, the Company Migrated from BSE SME Platform to BSE Mainboard Platform.

KTL is one of the leading Wholesalers in Ahmedabad having an existing client base of over 600 customers, making the company a major player in the Paper and Paper Products (i.e. Kraft Paper, Duplex Board, Copier Paper, Waste Paper, etc.) markets in Gujarat.

Kushal Tradelink's core business comprises of Kraft Paper, Waste Paper and Duplex Board. The company have been conscious in addressing environmental and safety concerns and the stocking / processing facilities are ISO 9001:2008 compliant. KTL is an important intermediary in the Paper Product Supply Chain whereby it purchases materials such as Kraft Paper, Duplex Board, etc. from individual paper mills and supply the same to customers in the Packaging Products Business.

KTL has two Wholly Owned Subsidiaries
1. Kushal Impex Pte Ltd. In Singapore incorporated on 16th January 2014
2. Kashish World Wide F.Z.E in Ajman, UAE. incorporated on 10th January 2016. [1]
The thing that I found strange about this company is that it's a wholesaler of paper – Kraft paper, Duplex paper, waste paper and Coated paper – and it doesn't have its own manufacturing facility. It's only a trader. And despite being a wholesaler of a commodity, the company has been able to show very, very fast financial growth.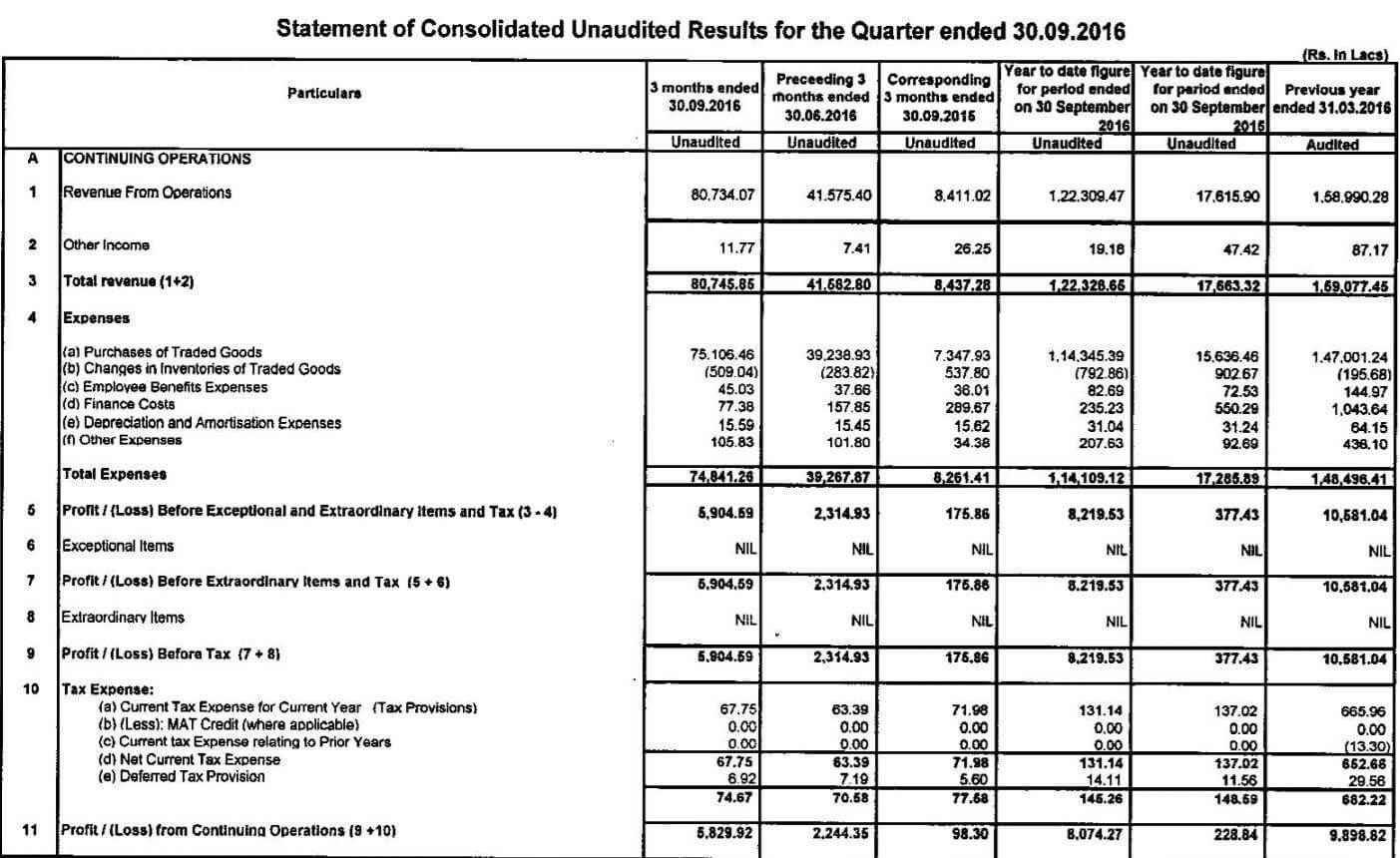 In the September quarter result shown above, the company showed an almost 10 times growth in revenue, from 84.37 crore to 807 crore and its net profit showed 60 times growth from .98 crore to 58.29 crore! A huge growth for a mere commodity trader, with no apparent competitive advantage.
Kushal Tradelink is paying negligible taxes.
One would think that such a growth would come at the cost of negative cash flows.
But no: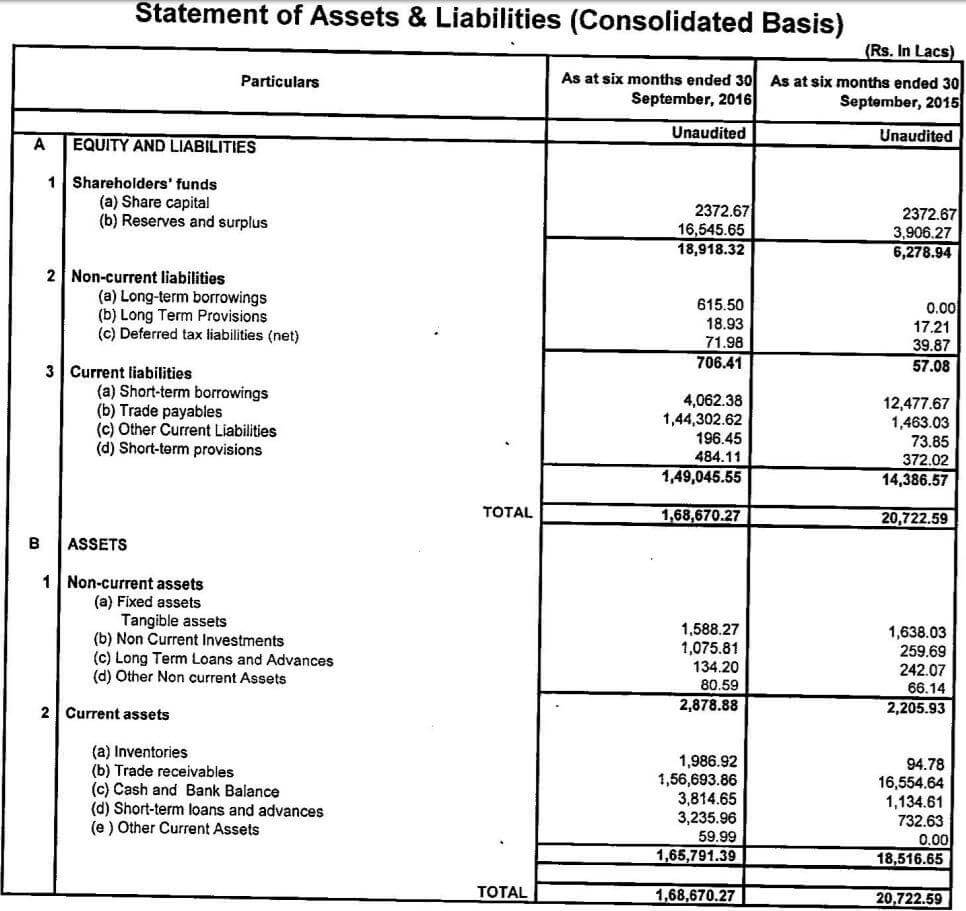 The company was able to generate so much cash that it was able to retire most of its short term debt. The company is able to fund its working capital requirements from internal accruals despite the growth!
Operating working capital of just 200 crore and fixed assets worth just 15 crore were used to generate a quarterly revenue of 800 crores (annualised almost 3000 crore)
Though receivables increased from 165 crore to 1566 crore, payables also increased by a slightly greater number, from 14.65 crore to 1443 crore. So the operating cash flow was positive which was used in retiring some debt and cash and bank balances also increased a little bit.
Kushal Tradelink's share price has almost become a 100 bagger in less than 3 years.
And the financial growth has been extraordinary. The company has also paid 2 rs/share(100%) dividend last year. K G Vakharia & Co. is the auditor.
From its annual report: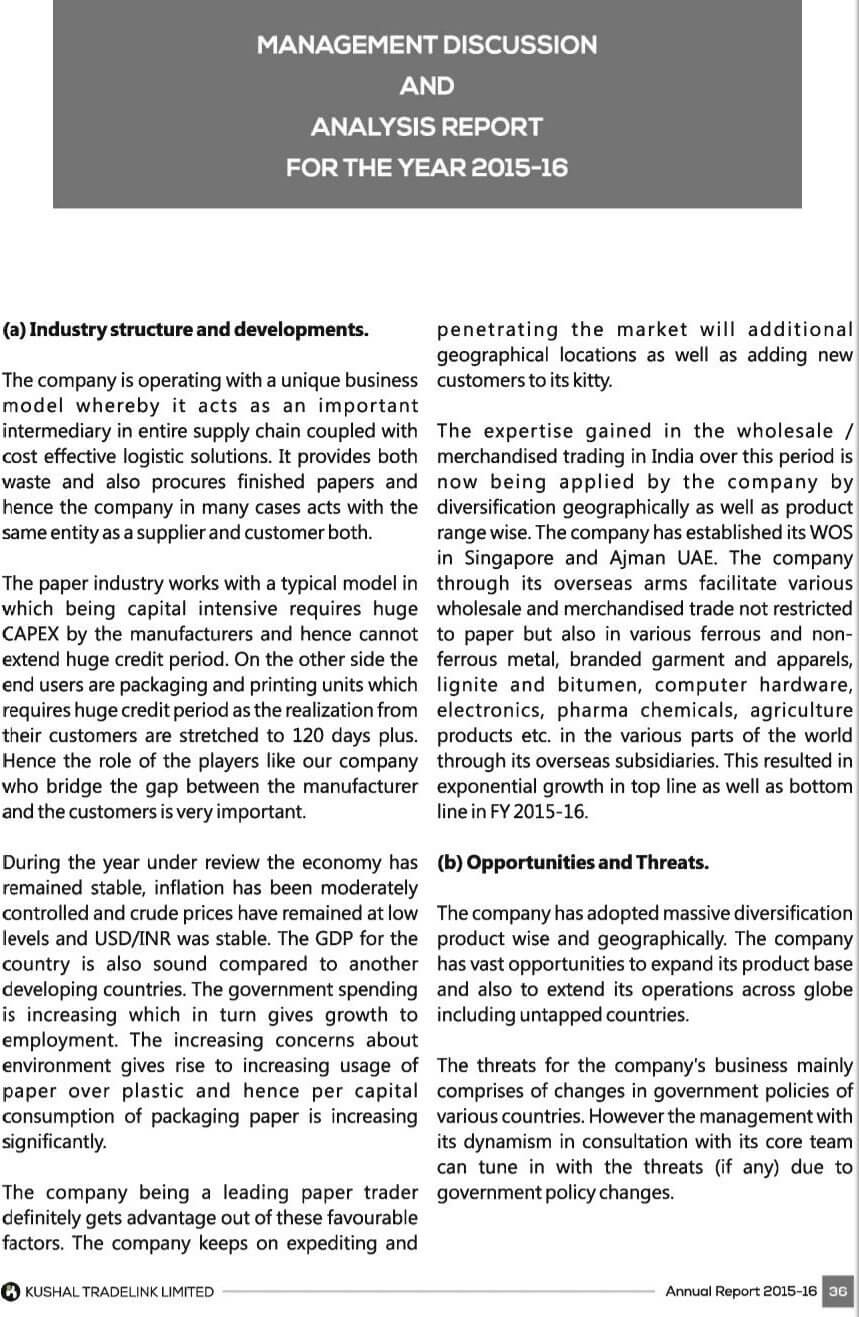 According to the second paragraph, paper manufacturing is a capital intensive business, so paper manufacturers can't extend huge credit period, and despite this statement we have seen that the company was able to show a huge increase in payables – payables are more than half yearly revenue.
The company has set up foreign subsidiaries which are involved not only in paper wholesaling business but also in the trading of metals, branded garments, pharma chemicals etc. And apparently the company is earning a lot of money by just trading.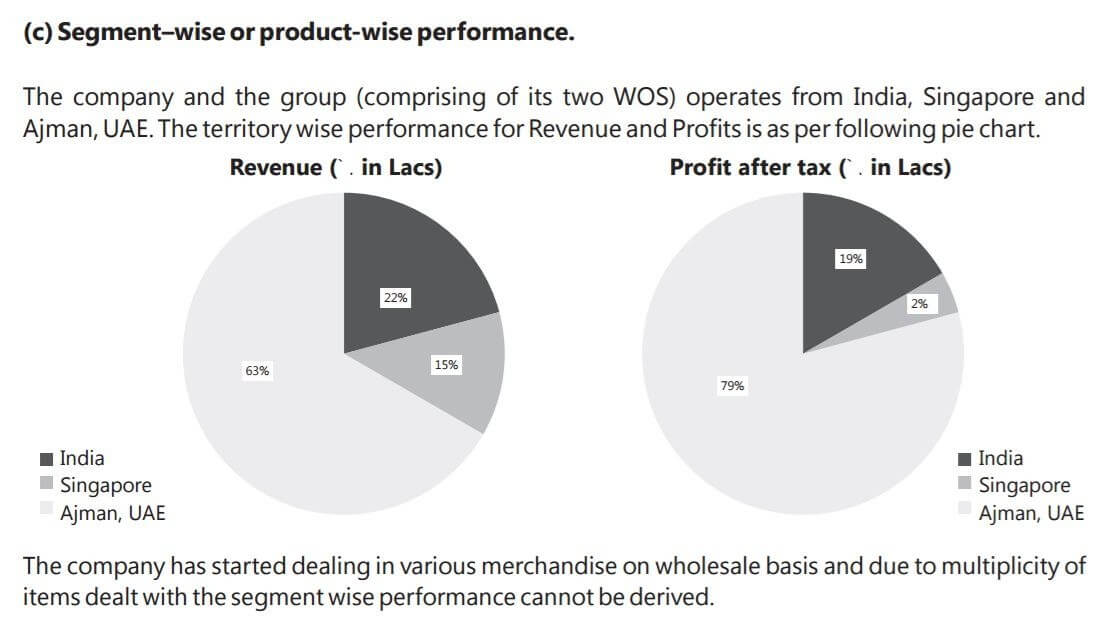 As you can see, the company is earning a majority of its revenue from its overseas subsidiaries in UAE and Singapore, which are involved in other businesses as well. The company earned just 22% revenue from its paper trading business in India during FY 15–16.
So we have got a commodity wholesaler which is paying negligible taxes on its huge profits and which is showing an extraordinary revenue growth while using very less working capital and tiny fixed assets. Seems too good to be true.
You might be in a different post I have written How to find Undervalued Stocks in Indian Share Market