This is why I do not like the concept of undervaluation and overvaluation.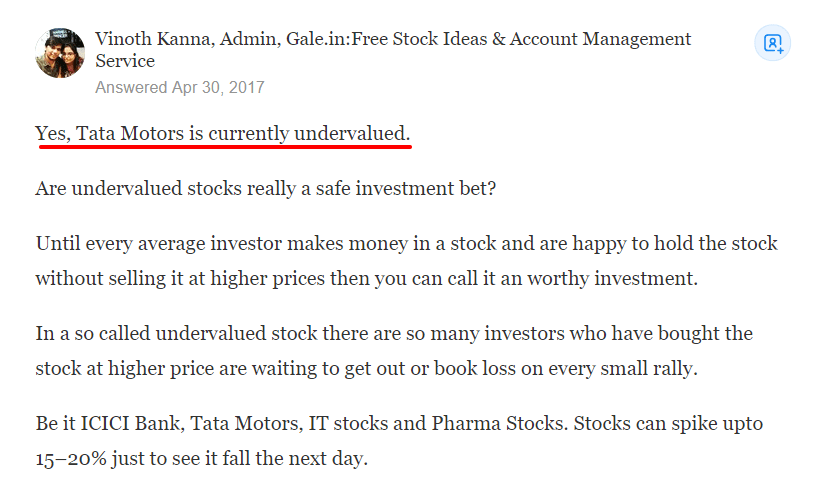 So, here is what happened after April 30th till today –

It is in a downtrend. There will be no sign of long term buy unless the level of 200 is broken from here which is a lower high.
What changed?
Trump came and did mess with China. China's purchasing power came down. Sales came down.
Brexit issues resurfaced. The demand for diesel cars in Europe came down.
The stock already fell 20% from its top. As per dow theory, it entered the bear market when the question was coined here.
What happens in the bear market?
The market discounts the stock's price more than it's value. The highest impact of the US-China tension can be seen in metal stocks like Vedanta. They will rise significantly if Trump gets assassinated. (metaphorically)
Then this happened – Tata Motors posts biggest quarterly loss of Rs 26,961 crore on JLR woes
They did not make a loss in sales. It is an adjustment of impairment cost.
An impaired asset is a company's asset that has a market price less than the value listed on the company's balance sheet. Accounts that are likely to be written down are the company's goodwill, accounts receivable and long-term assets because the carrying value has a longer span of time for impairment
It was bound to happen anyways. But, the current price is again hammered more than it should! It is definitely undervalued but how do you quantify it?
Should I buy?
Let's check two companies –
Company A:
Stock P/E: 12.95
Company has reduced debt.
Company is virtually debt free.
Company is expected to give a good quarter
Company has good consistent profit growth of 56.73% over 5 years
Company has been maintaining a healthy dividend payout of 50.40%
Company B:
Stock P/E: 45.56
No dividend.
The company has delivered poor growth of 9.31% over the past five years.
Company has a low return on equity of 12.81% for last 3 years.
The interest coverage ratio measures how many times over a company could pay its outstanding debts using its earnings. The figure is quite low for this company.
Promoter increased the stake.
Trading at half of its book value.
Even a fundamentally dumb person will vote to buy Company A (Ashok Leyland). Company B (Tata Motors) translates to returns of Liquidbees theoretically.
What did you do?
The rationale of buying this company leaving other companies like Ashok Leyland is beyond my grey matter. I vote to trade small short term trades like this –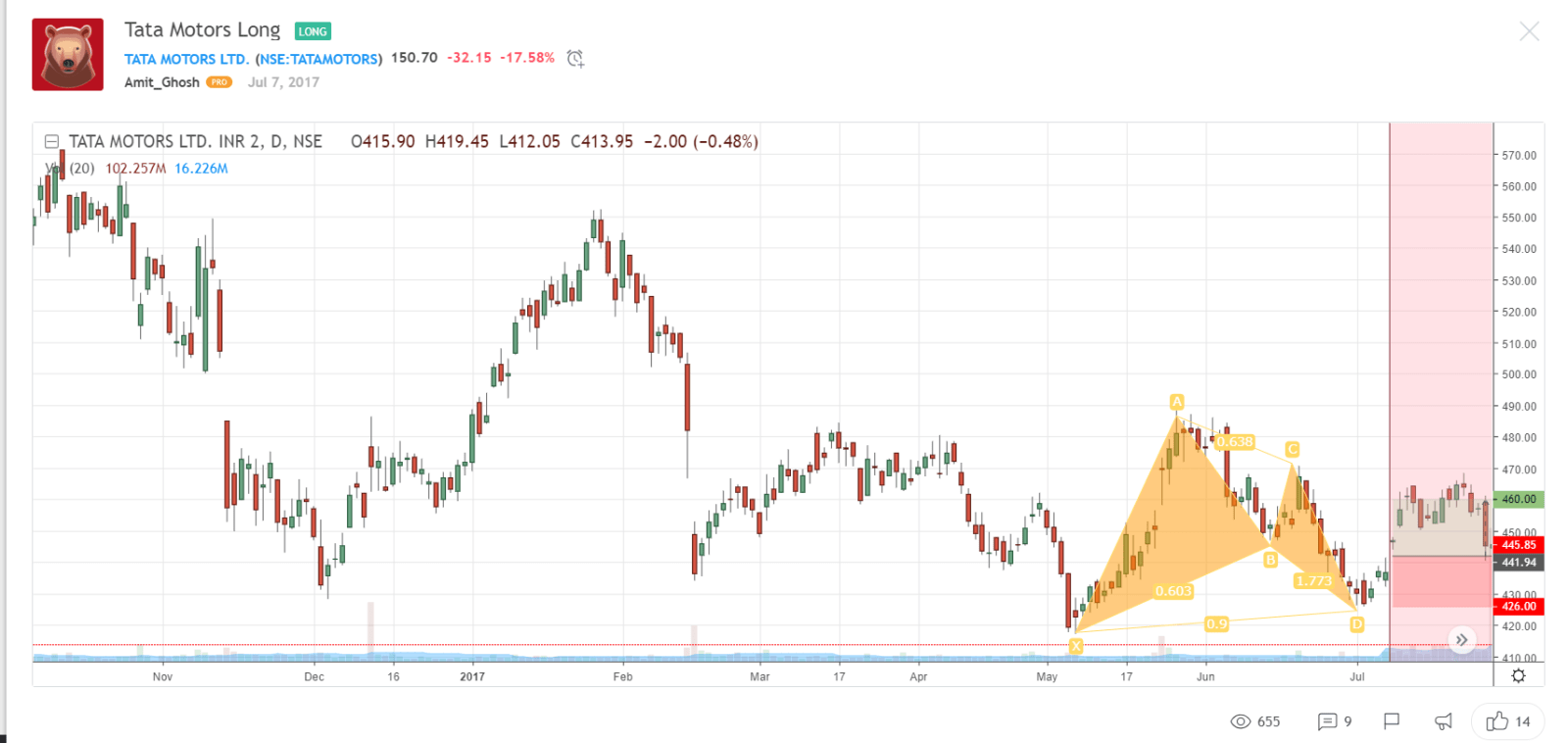 Source: Tata Motors Long for NSE:TATAMOTORS by Amit_Ghosh
If I am forced to take a decision in a gunpoint – I will construct short strangle sell 125 PE at 2.5 and 170 CE at 2. People say options have an unlimited loss while they are comfortable to buy Tata motors at 500 and praying in the temple.

Also, You can make some money intraday by level trading. Apart from that, delete it from your watchlist till it breaches 200! If you want to stay updated on my levels, keep an out at our trading community