Monday, May 7th
BankNIFTY is currently shooting to the moon because of good anticipation of ICICI results. Let's check BankNIFTY with Daily time frame. You will see it is stuck at a massive resistance.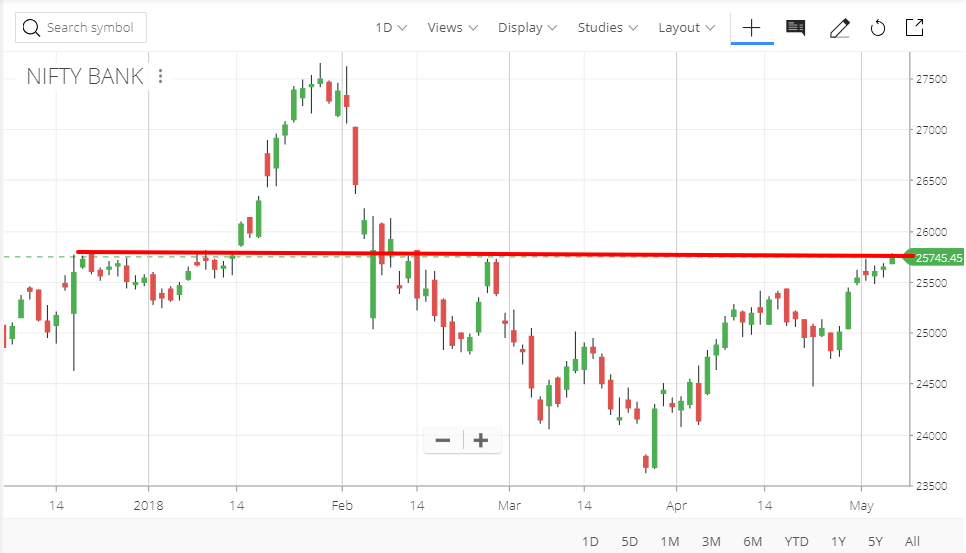 Based on this I will be blindly shorting 25800 CE.
Why not 25700 CE?
Because 25700 CE is ITM and 25800 CE is OTM. Right now it is on verge of the breakout.
Well, the market is already anticipating that, isn't it? You can see from ICICI charts that it is shooting up in anticipation of good results. (Better than expected).
Market discounted the estimates. First, you need to see the trend of the market. It's bull market.
Estimates are done by many analysts, many factors. Past performance matters too. And, that's why the CE short.
What one should remember that he needs a margin of holding two lots of BankNIFTY to do these trades. Although it is intraday; sometimes there is momentary panic where we can hedge out.
Intraday traders love volatility.
Well, Intraday theta traders don't like volatility!
We like consolidation so that theta rules out the business. So first step of trade is checking the market on 10:30 dot when the starting volatility calms down.
Follow up after some time –

So far our trade went nowhere. ICICI bank will post results aftermarket. So if you want to take it to the next day then ok otherwise it must be closed as it is.

I hedged it. I chose a strangle because 700 PE is OTM now. Our BEP is 25500-26000 right now. The IV is full of juice. Let's see what happens next!
Monday, May 8th

ICICI posted results and it is better than the estimates. So, we are closing 25700 PE.
Tomorrow we have Fedbank's results. So BN can hold 26000 as of now but the view is still bearish as we think the market will consolidate before KTK elections.
So shooting 25900 PE and closing 25700 PE. 25900 PE and 25800 CE will make a delta neutral strangle. We booked 60 points on 25700 PE. BEP of 25900 PE+ 25800 CE will be 25700-26000.
Now, considering past profit, Our whole trades' BEP is 25640-26060. You can see the payoff graph here – https://i.imgur.com/lXDEl7P.gif
Firstly global impact will be more on N. Not BN. All PSBs are fucked. They can't fuck more.
Buy them. HDFC B at support. Privates are all at major supports. Except for Kotak bank which is ultra high PE. Fed bank is already appreciated. So Fedbank can't pull BN. Its PSB + mother HDFC we need to watch. HDFC will be under pressure due to FII rebalancing.
But after some time, it will rise shooting BN up.
see a quick fall in HDFC Bank before it rises. It's perfect 3BB right now.
Monday, May 8th [Evening]
Here goes explanation of BN buy trade. Red-line is the D-trend. Price action on the blue breaking HD trend. That's buying with SL at swing low. Next fundamental event is the orange arrow.
Its mother Hdfc's results. So no SL day. Rationale – It had a flash crack in old HP days making us huge money. It fell that day. Same flash crack.
PS: Made huge money with LMT too!
How?
Look at where Mother HDFC dragged BN. I drew a violet line there. I called it flash crack point. The way we trade results in harmonics. The Asian paints trade remember? Hindzinc trade? Today's JUBL trades?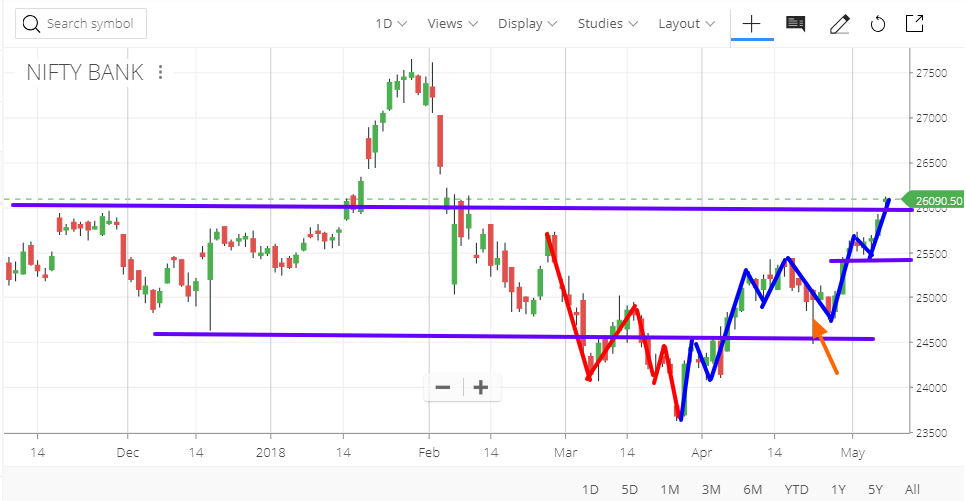 So it reversed from there. Had an LMT slight above that. So a few days later it made another swing low 101.
That's new TSL. It is a double bottom chart. Experience – The same pattern NIFTY made long ago breaking 10000. 9800 zone. Famous pattern. Never mind. So it shot up and is in ultra major resistance.
Use experience. Axis bank went up post shitty results. Went up. But it was shit. Shit is shit. It came down. Same with ICICI. That's why I shorted CE on #dr_turtle. Vega cooled off. Dumb traders fucked. We made money. Tomorrow or day after tomorrow, ICICI will give a good short.
Q. Banks posted shit result still we are up 1000 point?
A. No. Your interpretation is wrong. Nirav Modi fucked PNB. All PSBs fell which didn't commit a crime. They are discounted of shit results. Scam pulled ICICI already down. Well, Axis is shit I agree. But that's fall under the coffee can. It will and always stay above 530. So no matter what is the results. PSBs will go up.
Monday, May 9th
Yesterday's Trump's IRAN deal made a huge up and down in USDINR and hence impacted HDFC Bank as well as it is FII vested company. But as per our previously shared charts, we see no downside further mostly because today we have results of Fed bank and tomorrow we have results of Union Bank and Indian Bank. They will hold BN.
But 26200 is major resistance. We sold 25800 PE intraday to get auto square off-ed EOD. (Sold at 48 and closed at 13 netting 35 points and hence making our upper BEP – 26095 from 26060).
Monday, May 9th [Theta] This discussion happened in AlphaTheta channel. The trades we took for our investors who signed up at unofficed.com/theta got their trades rebalanced. Here goes the justification. These positions are completely different from the past discussion.
Look –
25300 PE was closed with 1840 profit. = 46 points.
25800 PE is closed (or, open) with 1200 profit (min) = 30 point
25900 CE is fucking our life with 100-110 point (let's take the max) = 110 point
PL = -34
How will you hedge?
Think calm.
Tomorrow is expiry.
Fedbank is coming.
The first step is you need to see Fedbank charts! Then see HDFC Bank's charts! It's very short-term view. Think accordingly.
You need to add buffer BEP.
which is 76 pt – 6pt (let's take brokerage) = 70 pt
=======
How about
 Close 25900 CE sold at 80; closed at 180 = 100 pt loss.
 Open 26000 CE sold at 110.
 Close whatever fuck PE is there
Open 25900 PE
When you book the loss buffer BEP = -30. Think and tell the best case.
Closing 25900 CE means you need to change buffer –
26000CE 25900PE is 25750-26150 (Buffer adjusted it will be 25780-26120)
26000CE 26000PE is 25820-26180 (Buffer adjusted it will be 25790-26150)
So, 26000 CE 26000 PE is an obvious choice. Isn't it?
Final Verdict – Sold, 26000 CE 26000 PE intraday. Closed all trades as BankNIFTY did a fluke towards 26200.
MIS BANKNIFTY10MAY1826000CE NFO 0 0.00 143.00 -808.00 0.00%
MIS BANKNIFTY10MAY1826000PE NFO 0 0.00 28.90 +982.00 0.00%
And, kept open 26100 CE sold at 75.
The net loss booked today amounts to 87.05 points ~ 90 points brokerage adjusted. 25300 PE was closed with 1840 profit. = 46 points. So that makes around 45 points loss.
So, our current BEP stands at 26175 – 45 = 26130. Tomorrow is expiry, we shall utilize the intraday margin benefit to shuffle the BEP according to the market.
Monday, May 10th [Theta]
Firstly, 26200 PE was sold as Indian Bank results were not out.
Then 25600 PE was sold off next week assuming what if there is a breakout in BankNIFTY. Then we will have slight profit bed.
Then sold 26200CE to make a straddle to 26200PE but accidentally sold next week's which quickly got in profit and exited and we sold 26200CE of this week.
Now, I saw charts of Fed bank and Indian bank. They were already appreciated. On good results, they will slightly rise, on the bad result or Okish results they will fall dragging BankNIFTY. Anyways most of the stocks were falling as well.
Checked with global markets; all were consolidating or about to crack. So sold 26800CE of next week's to make a strangle of the previously sold PE.
Europe opened and cracked and we exited 26200 PE making penny profits.
But Indian Bank results were still not out; so sold 26100 PE to make some money which was closed on 1.1
Then market worked in our favor and made money.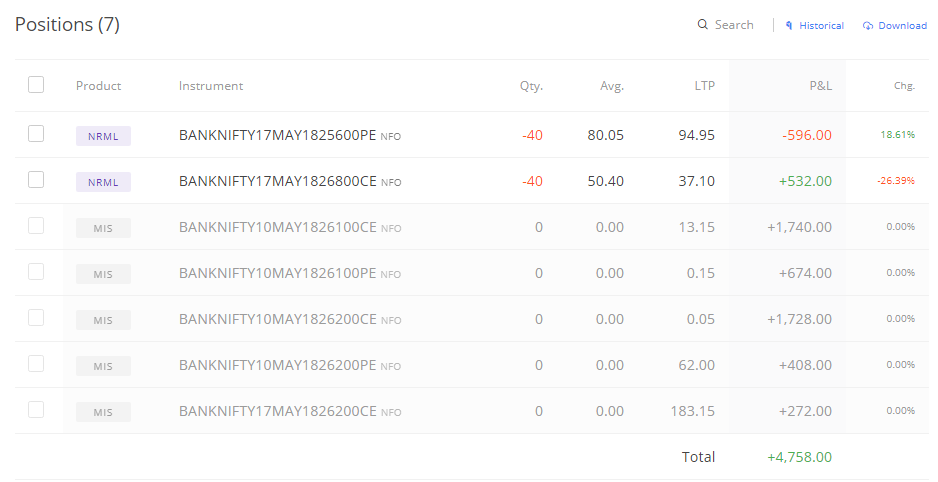 We had 45 point booked loss since yesterday's position closure.Today we made a profit around – 4704+662-544 = 4822 = 120.55 point ~ 110 point (brokerage adjusted). Net profit on the week stands to = 110-45 = 65 points.
What went wrong
I got scared of yesterdays up move and closure near 26200. In the fear, I not only closed the CEs but also closed the PEs which is a missed profit of 20 points.
What should have been better
Just should have laddered up the PE as well. It would make us 40 points more. Let's see what's ahead.
If you're interested in BankNIFTY options trading and are in need of guidance, have a look our Theta course aimed at BankNIFTY trading – https://unofficed.com/theta/course/
Thanks for being in Unofficed.