Updates: Update on MRPL trade
Apr 9 [9:23 AM]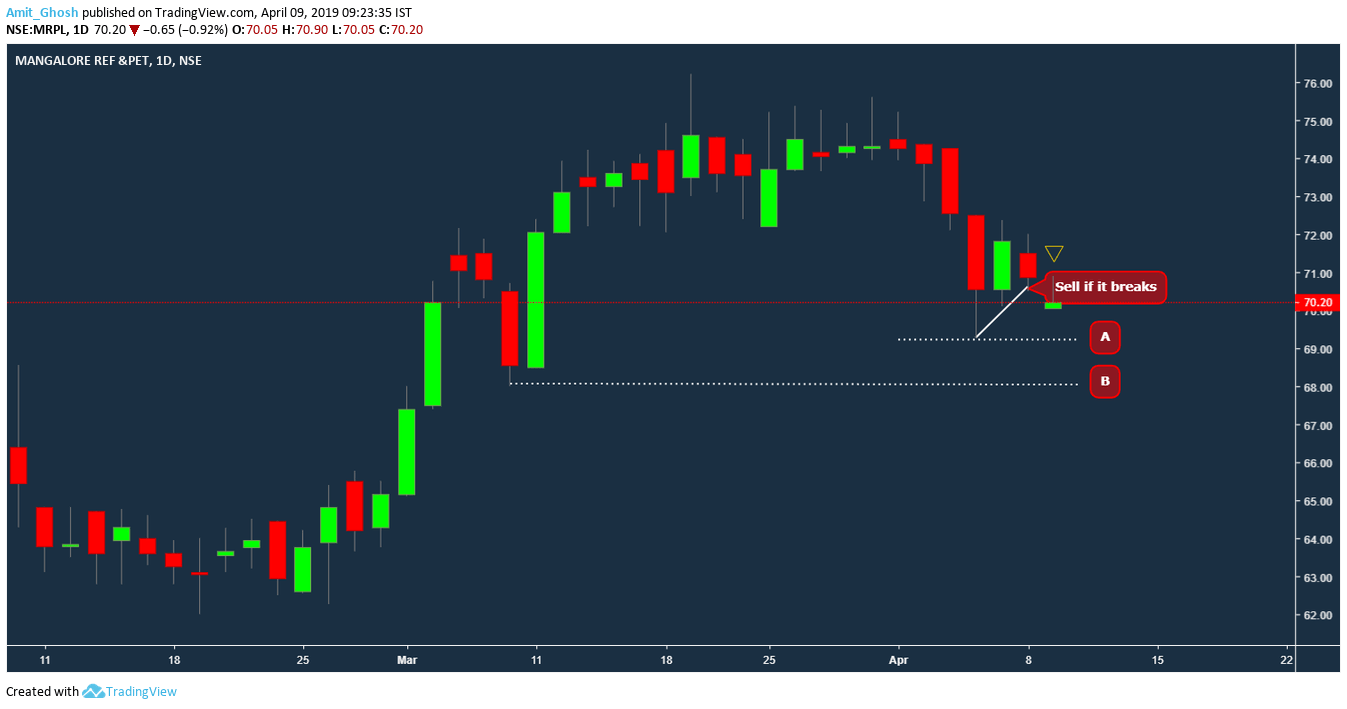 MRPL in D frame. Orgasmic. Cracked with style triggering our sell trade.
Inside Bar in Day Trading –
Indiabulls Intraday Trade
Apr 9 [10:23 AM]: Here goes an example of using Inside Bar in day trading. Basically, We can use Inside a bar in the lower time frame as our entry strategy in the setups that come out of watchlist.
Indiabulls tried to break the uptrend but it is bouncing up from there. So uptrend is intact so far. One can go long with the dotted line as stop loss.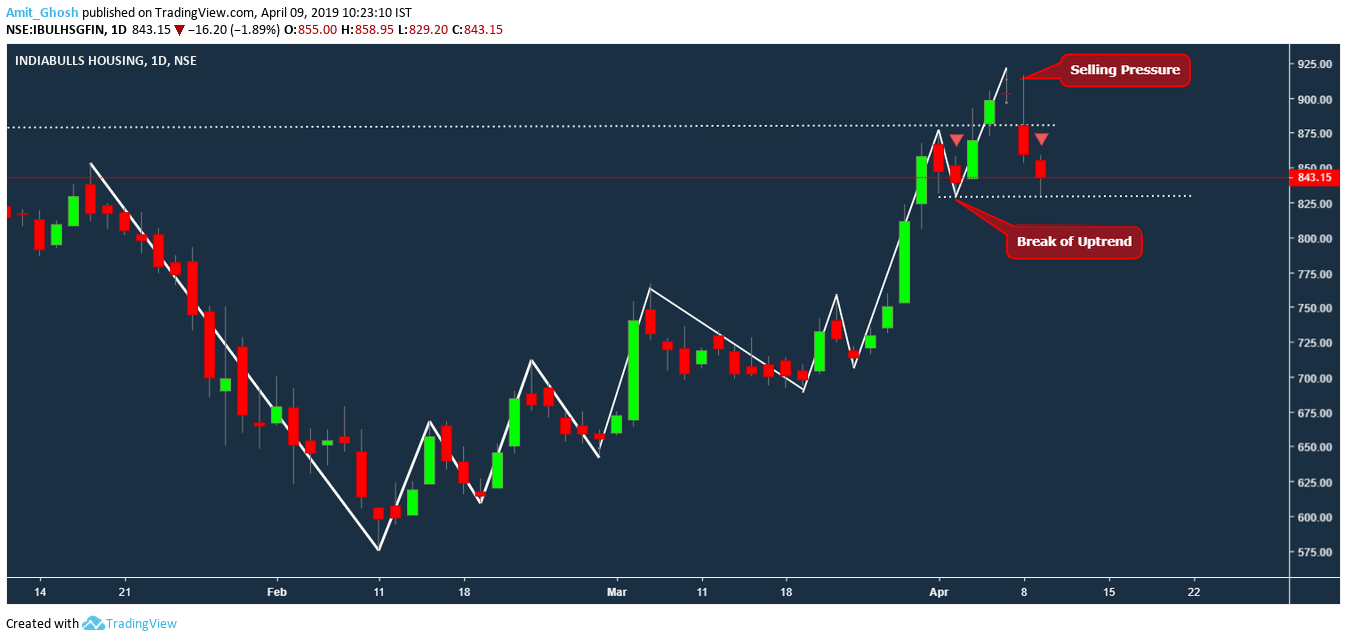 But, if we see –
It is supported at the lower time frame as spotted by Biren.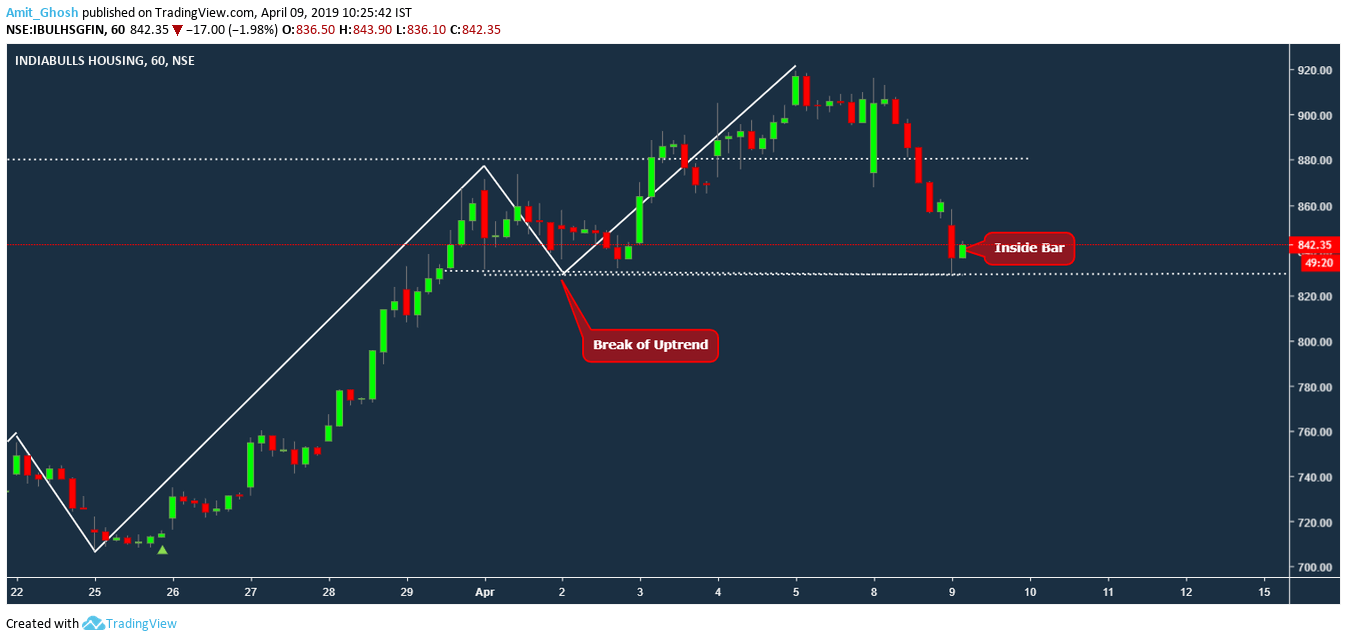 It is forming inside the bar in 1 Hour time frame.
It is in support.
Go long when the high of the inside bar break!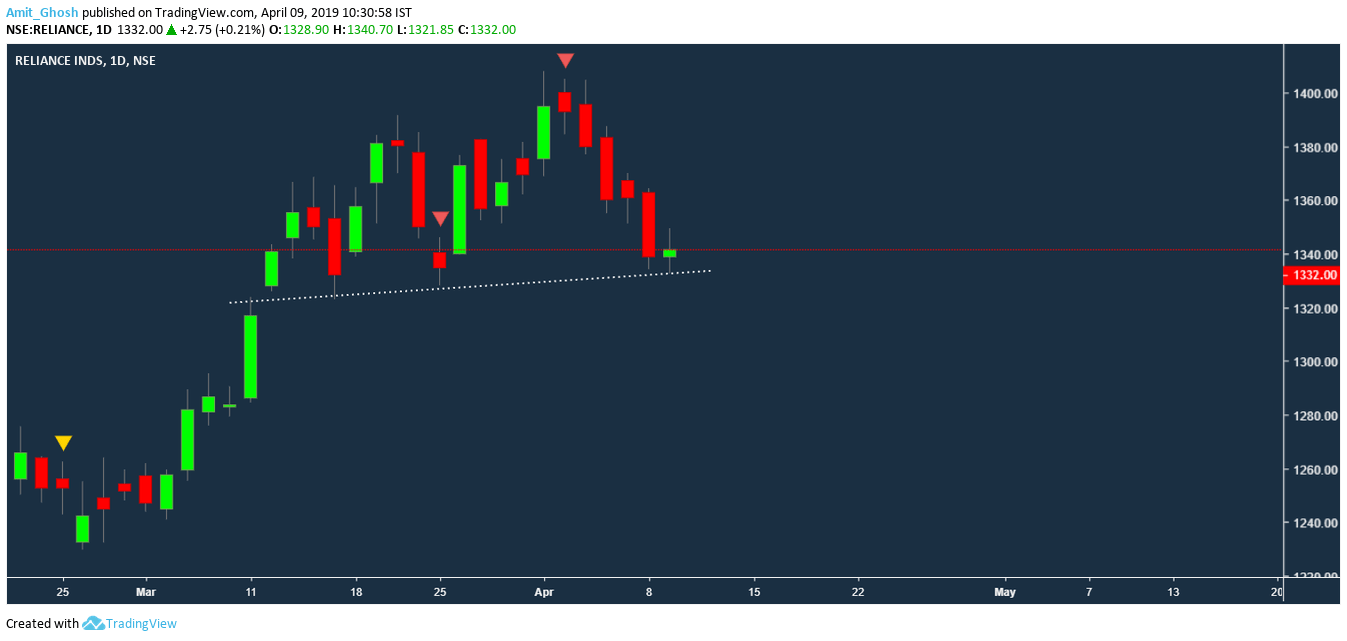 Update: Indiabulls Intraday Trade
Apr 9 [2:42 PM]: We were looking for buy side but it broke the low and consolidating on the support line. Right now another inside bar is forming but the time is 14:30 now. Let's see if it breaks.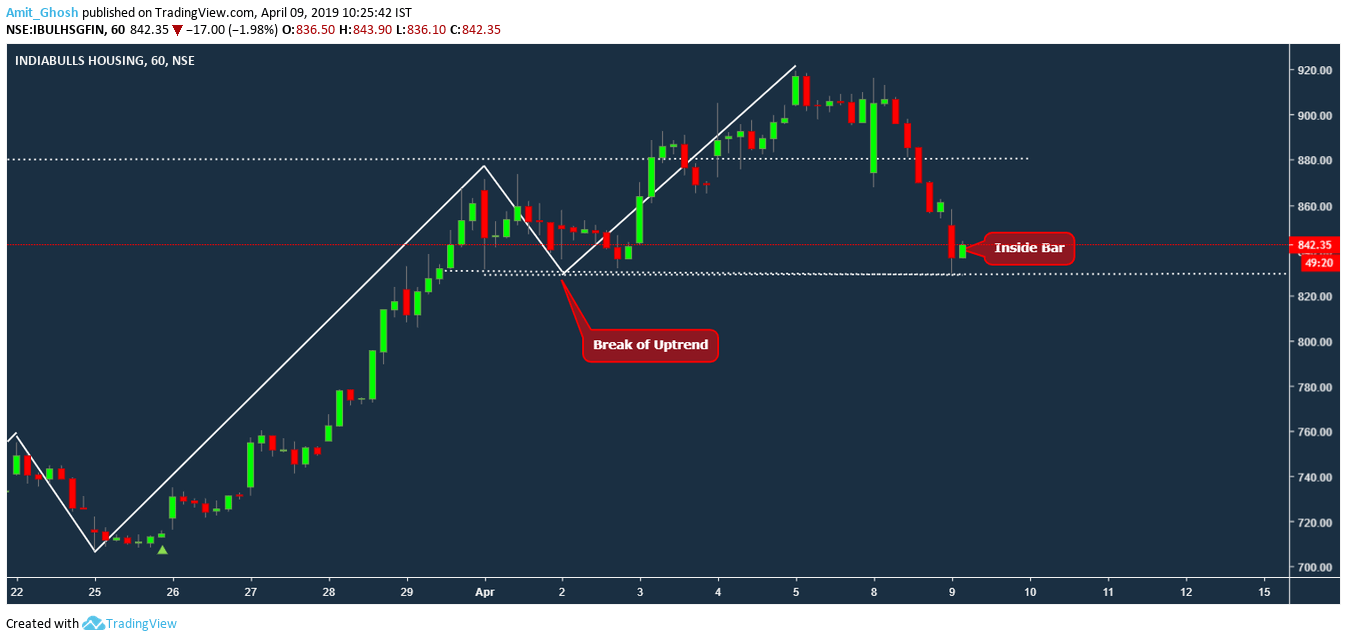 Apr 9 [2:42 PM]:The equity is still forming an inside bar, but the futures rose 10 points. Let's see what happens tomorrow. It will be in our watchlist!

Update: Amara Raja Battery
Apr 9 [2:42 PM]: It is making another inside bar.

Update 4: Dabur
Apr 9 [2:42 PM]: No trigger. Waiting for tomorrow. It is becoming more interesting now. Although we can not call it inside bar as the low of today is 400 which lower than yesterday's low of 400.

Update: SREI Infrastructure
Apr 9 [2:42 PM]: Triggered.

Update: MRPL
Apr 9 [2:42 PM]: Triggered and Target hit. Just focus once on this astrology levels. Level "A" of MRPL is today's low which we drew yesterday.

Manappuram Inside Bar in 10m Timeframe
Apr 11 [11:45 AM]: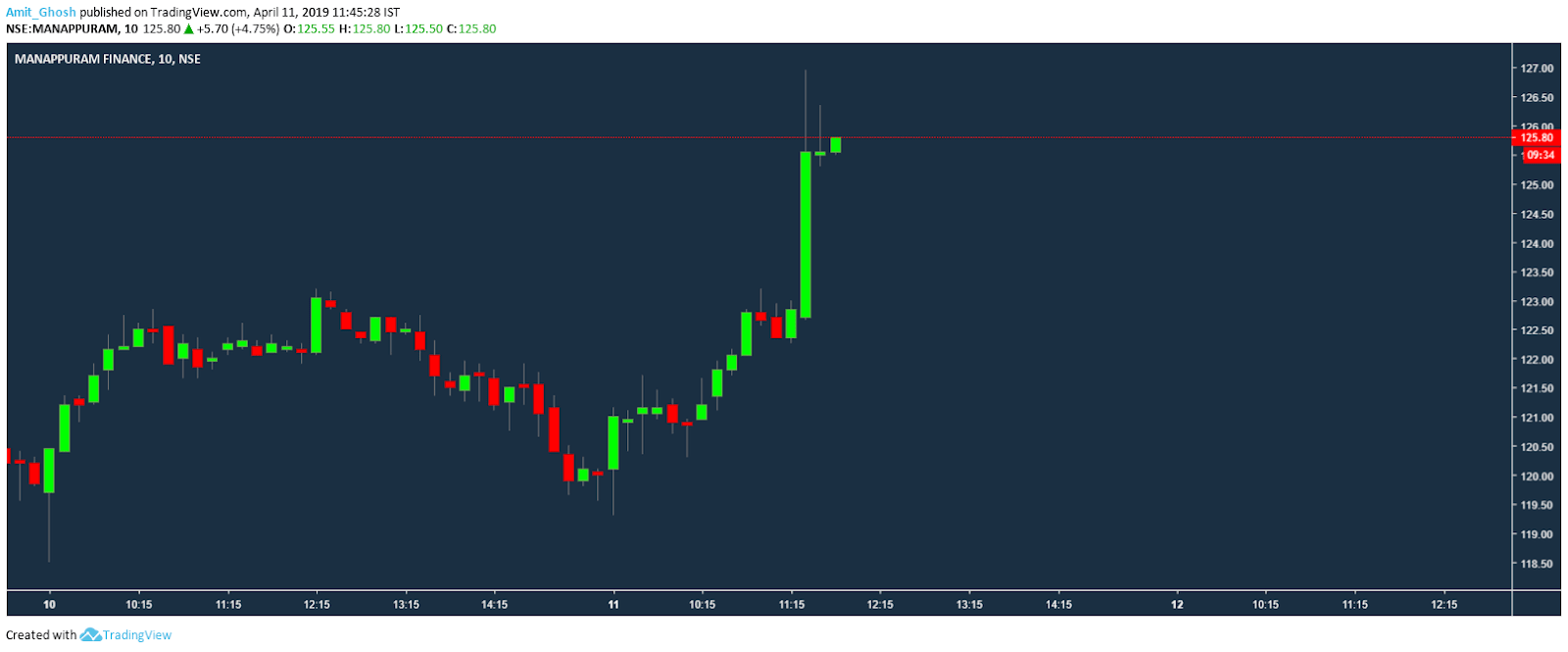 Apr 11 [12:10 PM]: Manappuram Inside Bar Triggered in the Upside.
Apr 11 [12:17 PM]: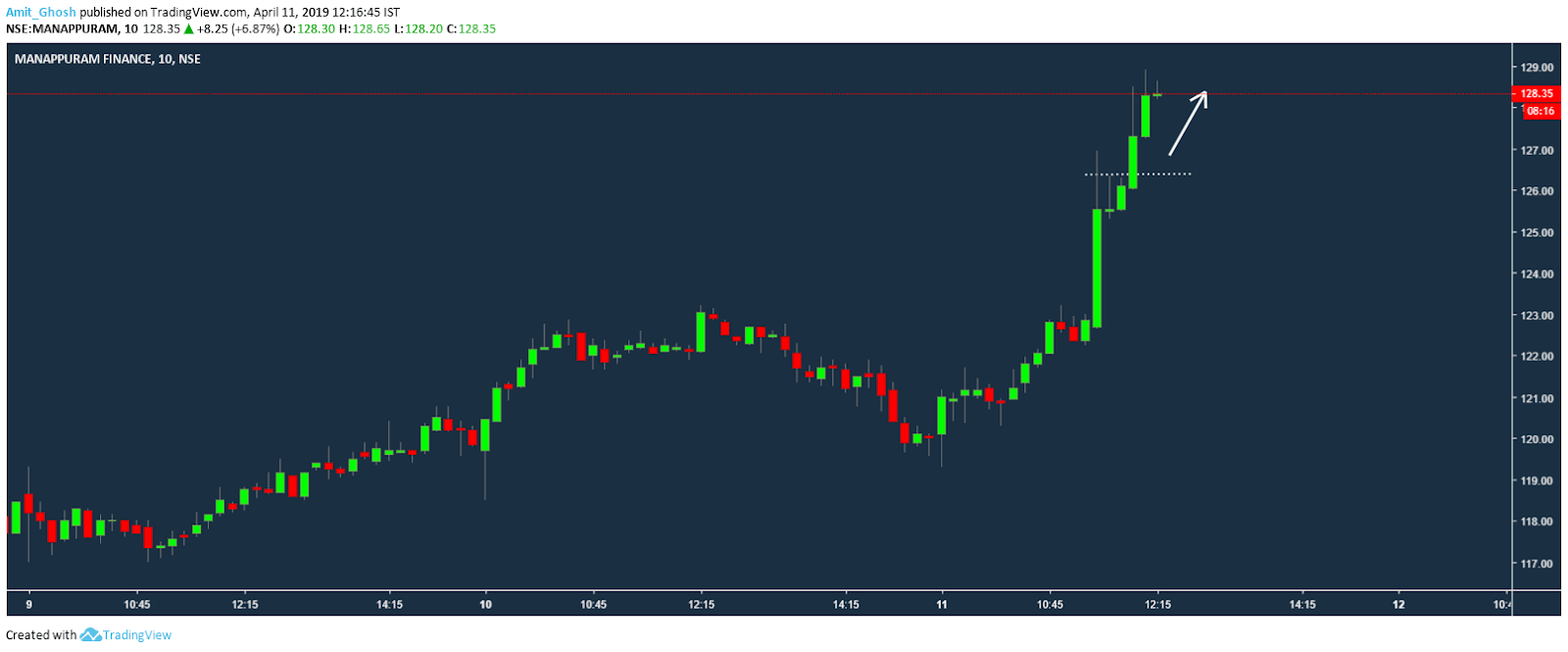 Right now if we see, it looks weak as it is unable to break PCH (Previous Candle High).
[12:25 PM]: What a day! Another inside bar, it broke upside. But, We are already in the same direction.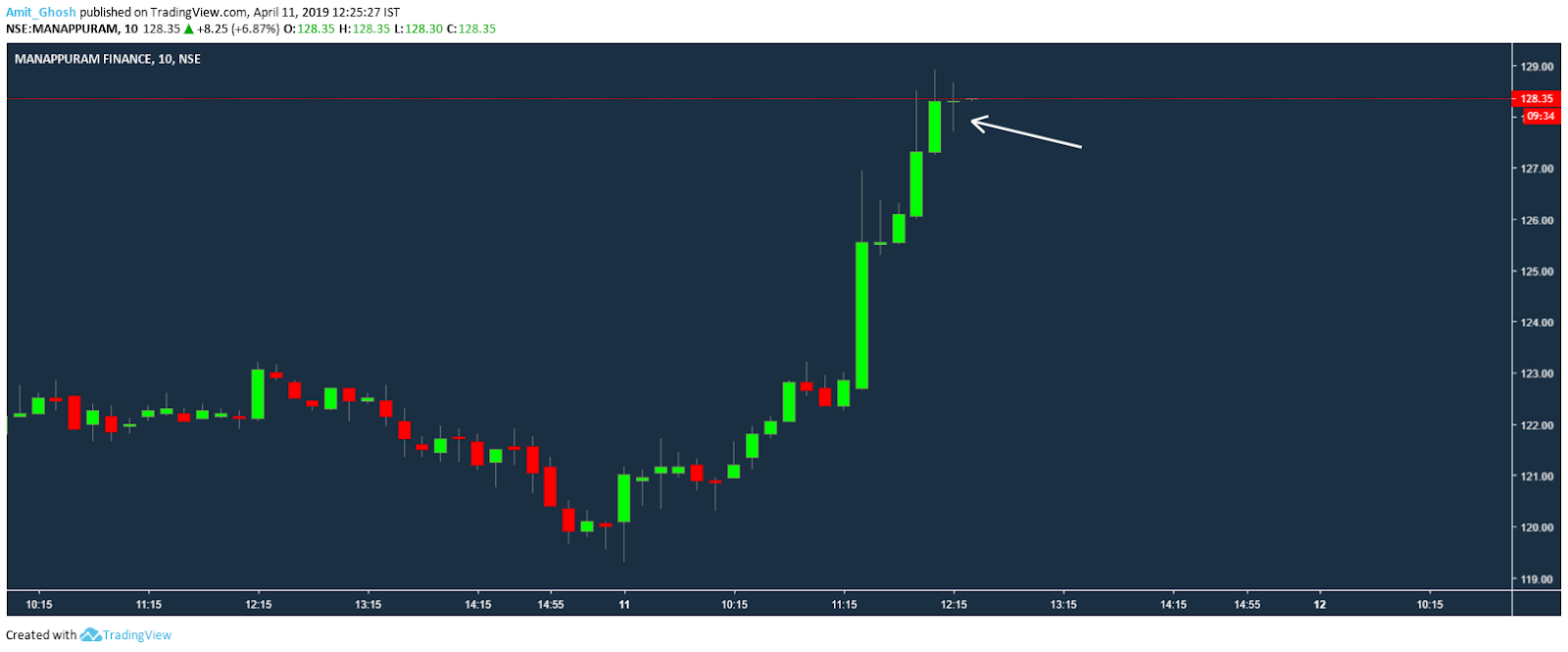 [12:59 PM]: Finally, sell triggered. We did a SAR (Stop and Reverse – It means we closed our buy trade and reversed the trade by selling it).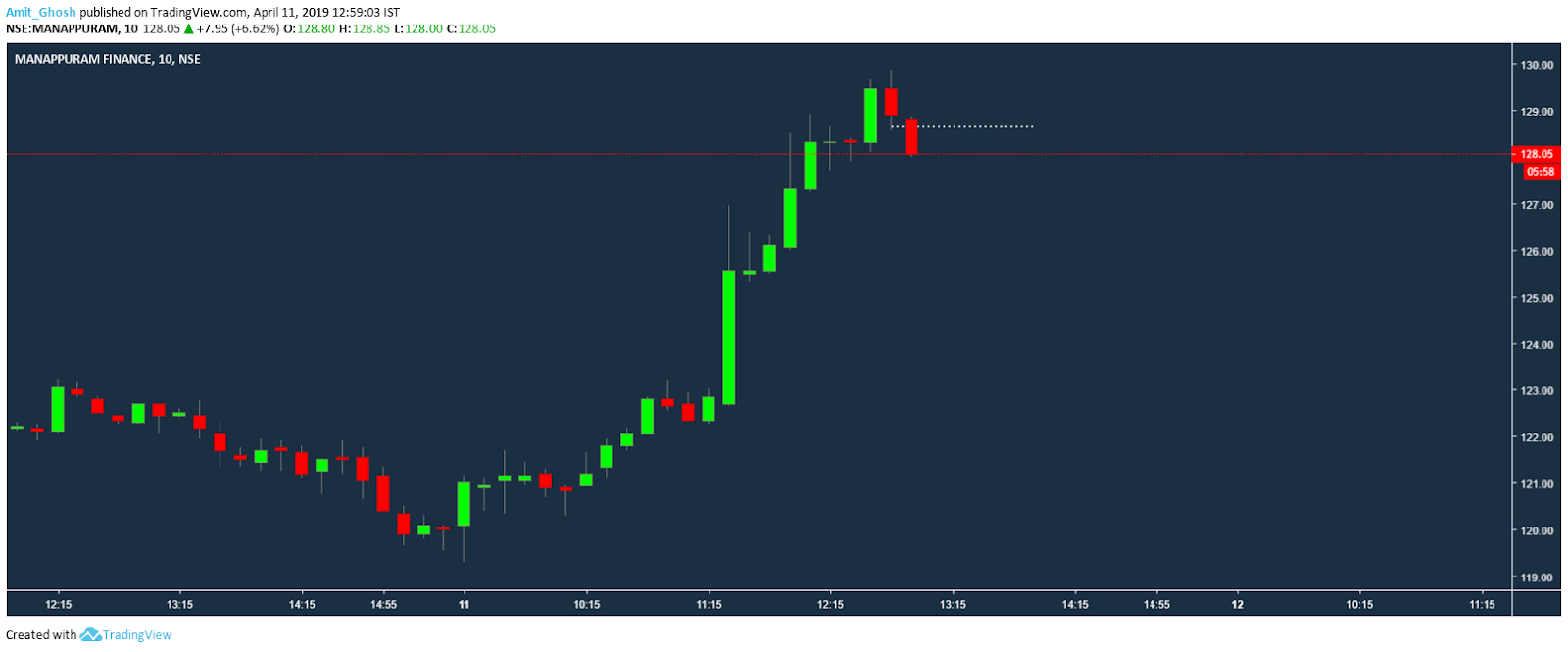 The short trade stood valid for the rest of the day.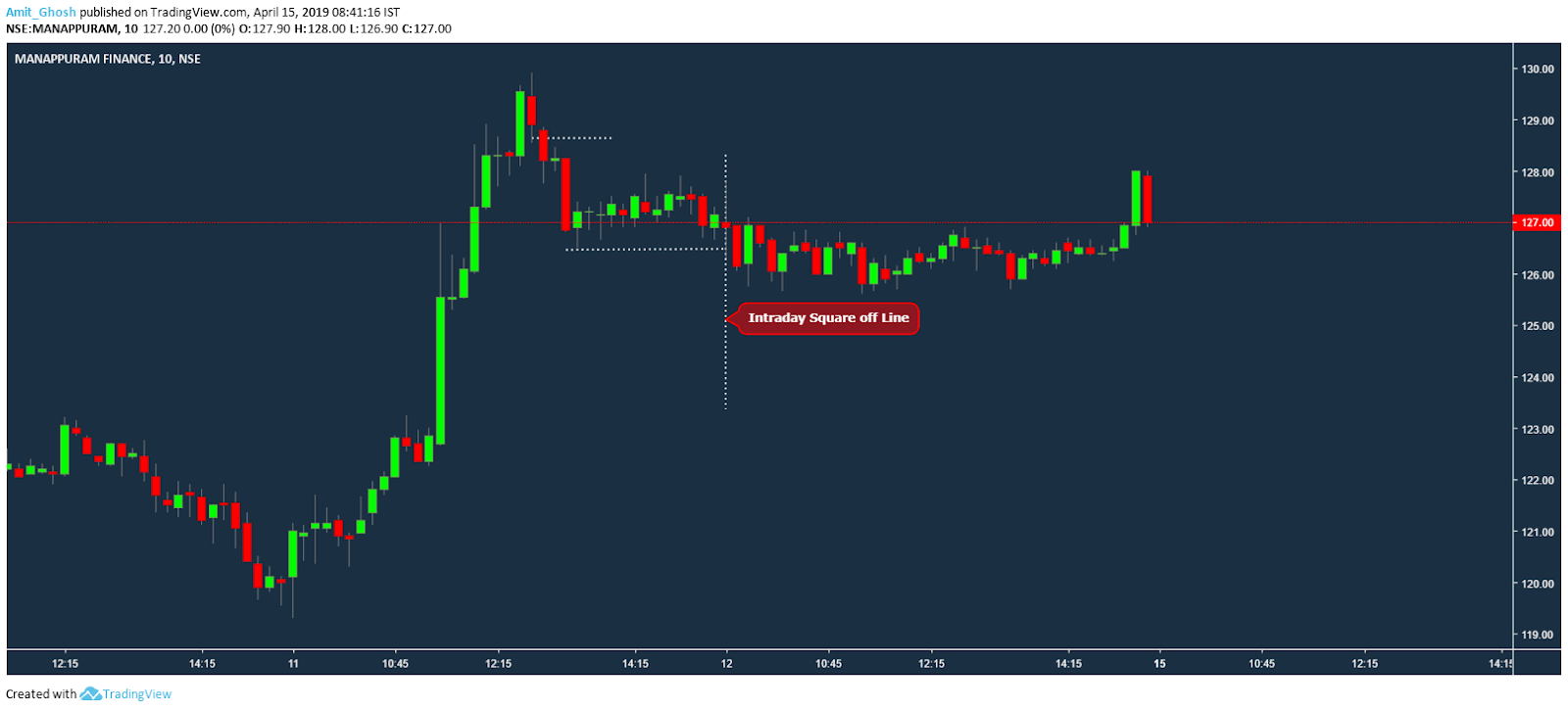 PEL Imperfect Inside Bar and Neckline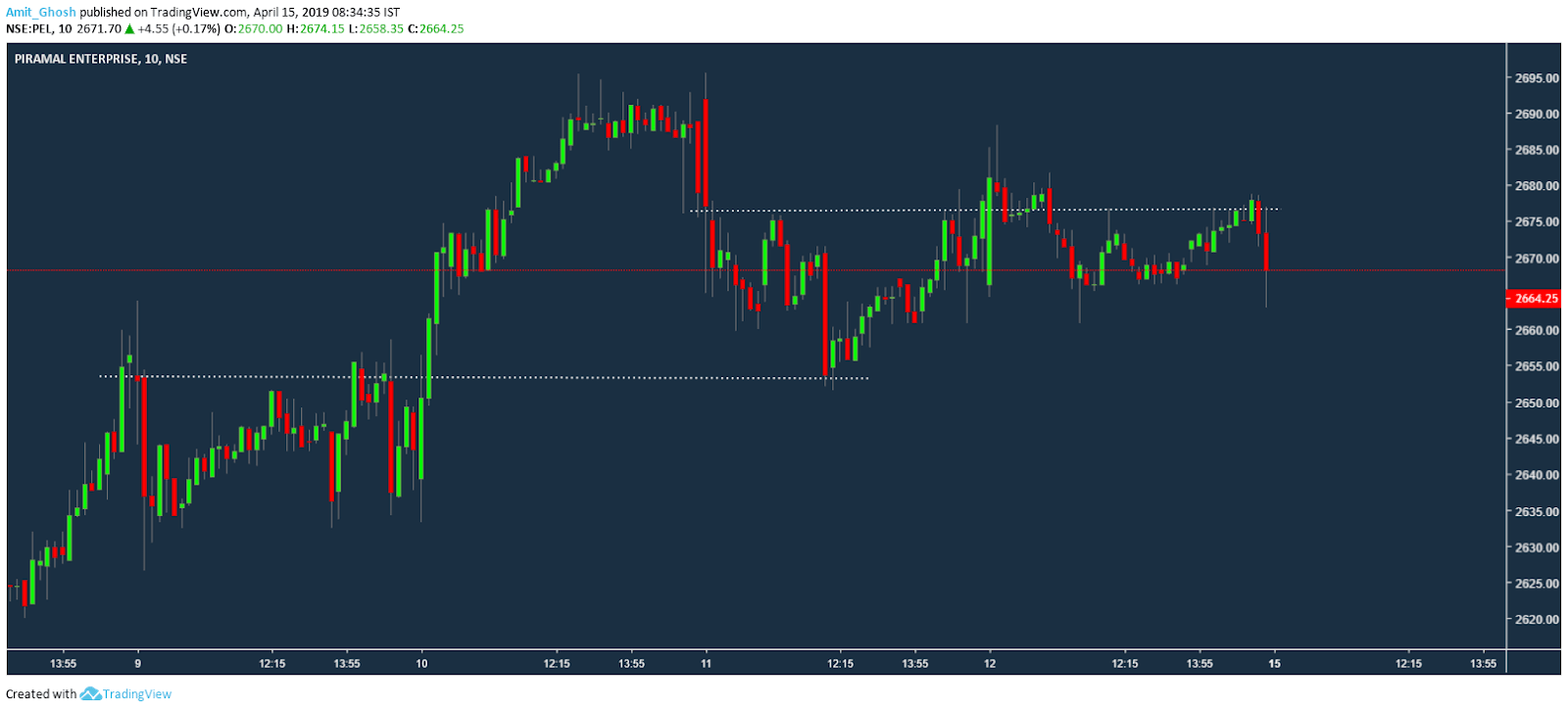 Contradictory case of Amara Raja Battery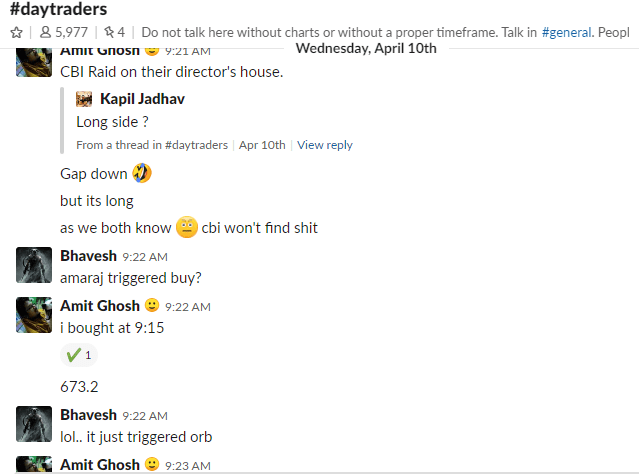 On 10th April, When we are having four nested inside bars in Amara Raja Battery, News of IT raid broke out.https://www.hindustantimes.com/india-news/i-t-raids-at-galla-aide-s-house-rs-45-lakh-cash-seized/story-US83Z9K1P4EcRO3yofzSyK.html
It said – The I-T raid on the Guntur house of Gurrappa Naidu, the chief accountant of Amara Raja Batteries, owned by Galla, comes close on the heels of raids conducted from Sunday on close aides of Madhya Pradesh chief minister and Congress leader Kamal Nath, where unaccounted money worth Rs 281 crore was reportedly identified.
Prime Minister Narendra Modi on Wednesday spoke of the raids and said this was hard evidence of Congress' corruption.
Summarizing –
It has nothing to do with the business of Amara Raja Batteries.
The accountant has good relation with Madhya Pradesh Congress leader. Congress is strong in Madhyapradesh. In terms of business, the benefit is with the ruling party always.
Amara Raja Batteries gap down. Triggered buy in Opening Range Breakout method. (It triggered buy breaking the high of the first candle formed in 5 minutes.)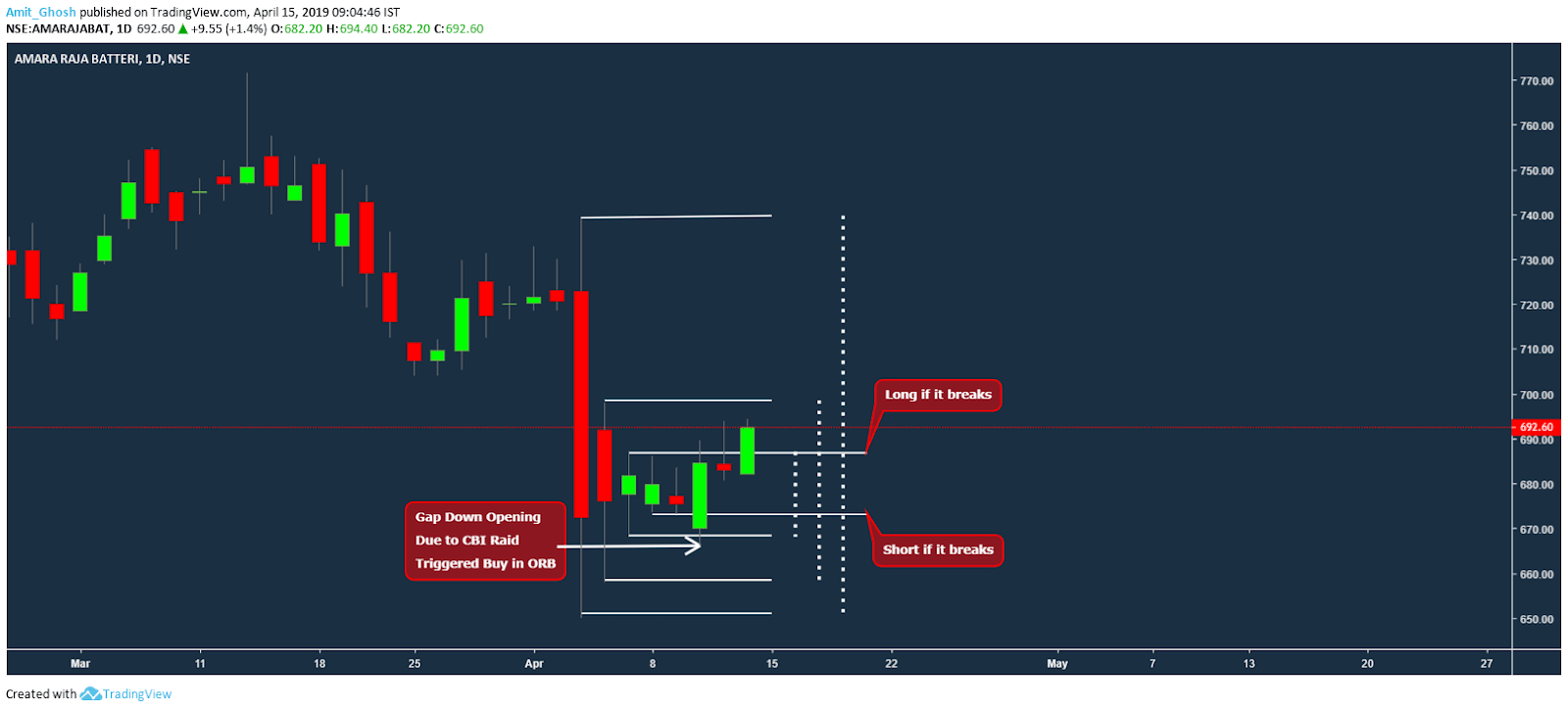 Why Opening Range Breakout method supersedes Inside Bar?
The very psychology of why Inside Bar works lie on the fact that how the positional people are treating their positions. The impatient trader who will create an opportunity for us will not have any chance to do anything with his position when there is a case of gap down or gap up.
So, Although it seems the low of inside bar breaks here. It is long!