How to pick winning trades with Inside Bar Strategy?
Let's take case by case. In school, you used to do homework right? No one likes homework. But let's do the homework for money.
Case 1 – Jubilant Food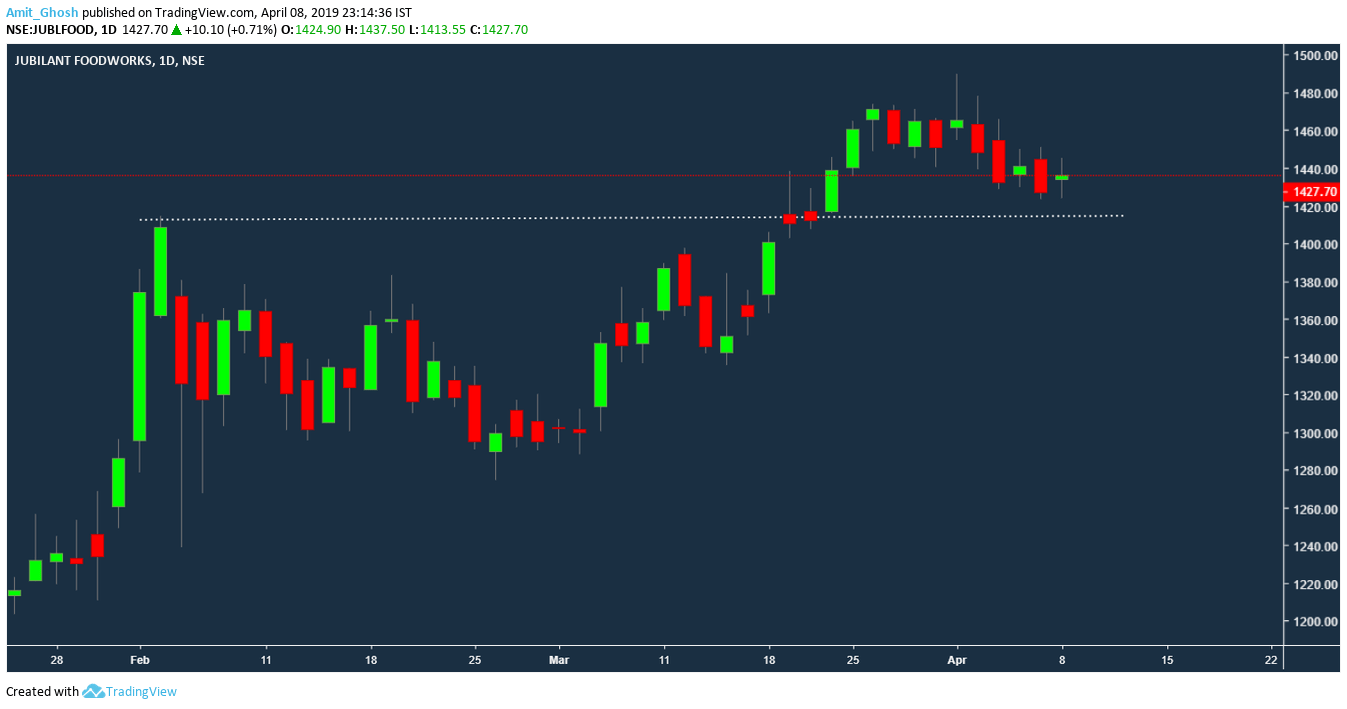 It doesn't look weak till the dotted line breaks. I won't short.
It has theoretically no support apart from 1400 as OI support. I won't long.
Going up needs momentum. It has no momentum. I won't long.
Skipped!
Case 2 – Amara Raja Battery
Watching the weekly chart. Even if it falls, it will fall after making a lower high? It looks a good reward in small risk.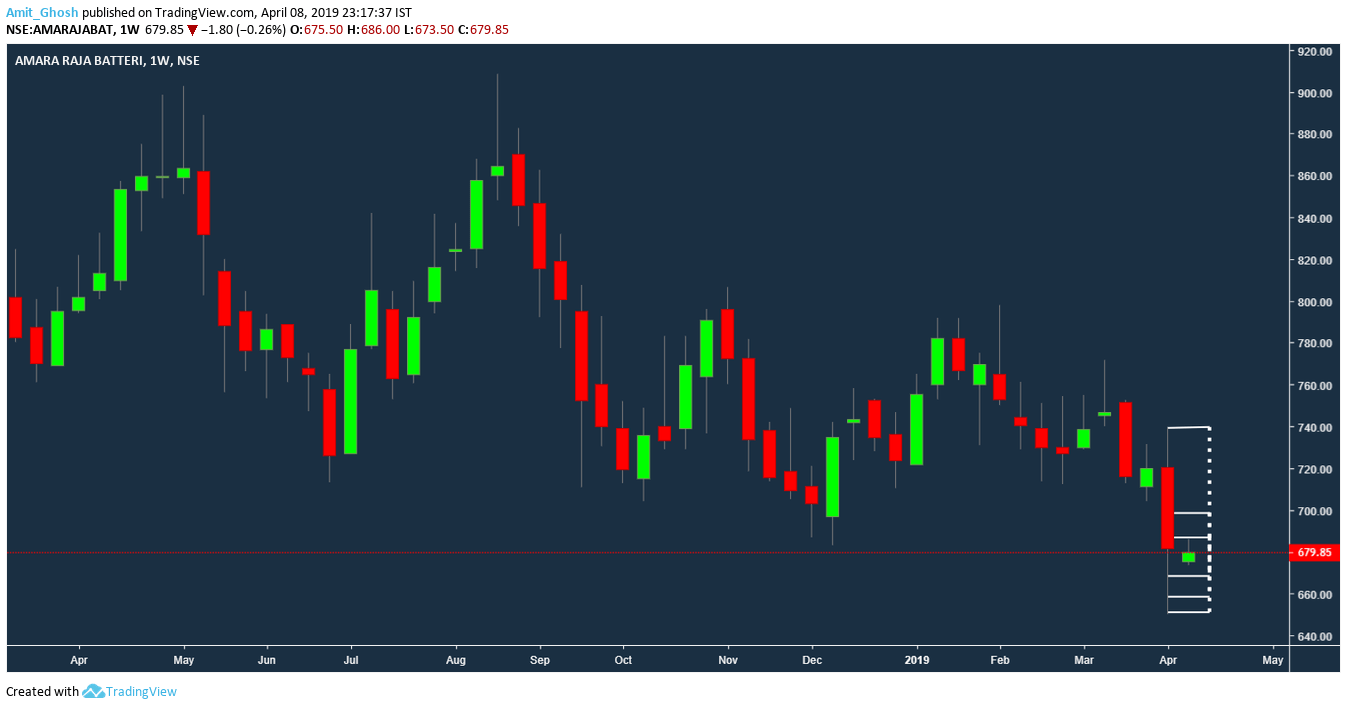 2. Weekly it is also inside bar.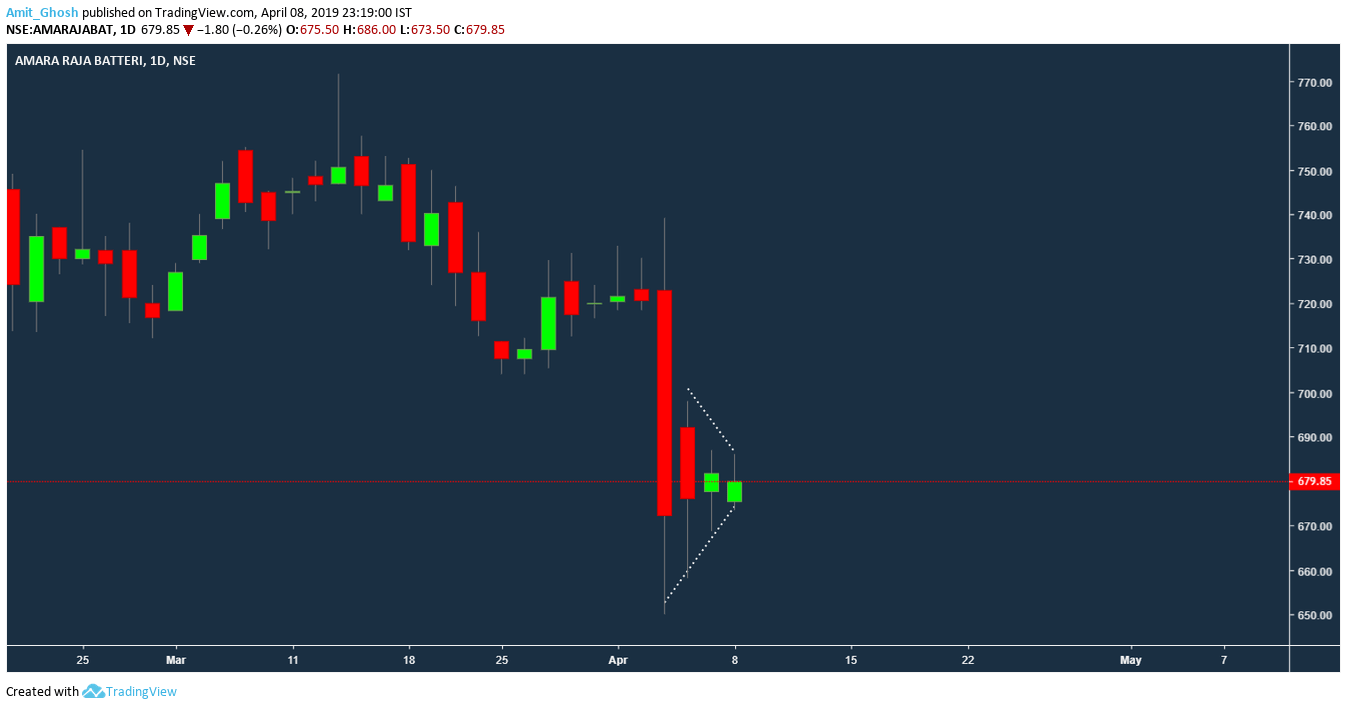 3. It made a bearish pennant.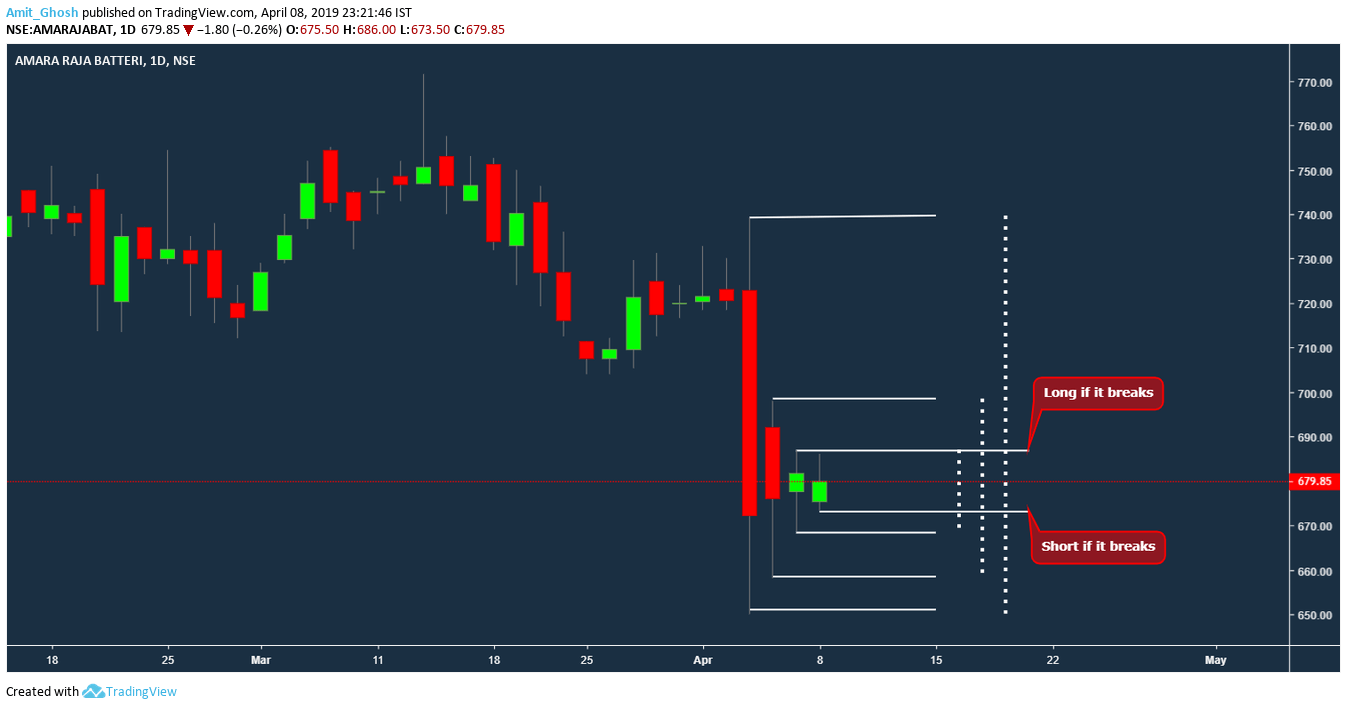 This trade is a strong candidate in the watchlist! But we are open to both cases.
Case 3 – Dabur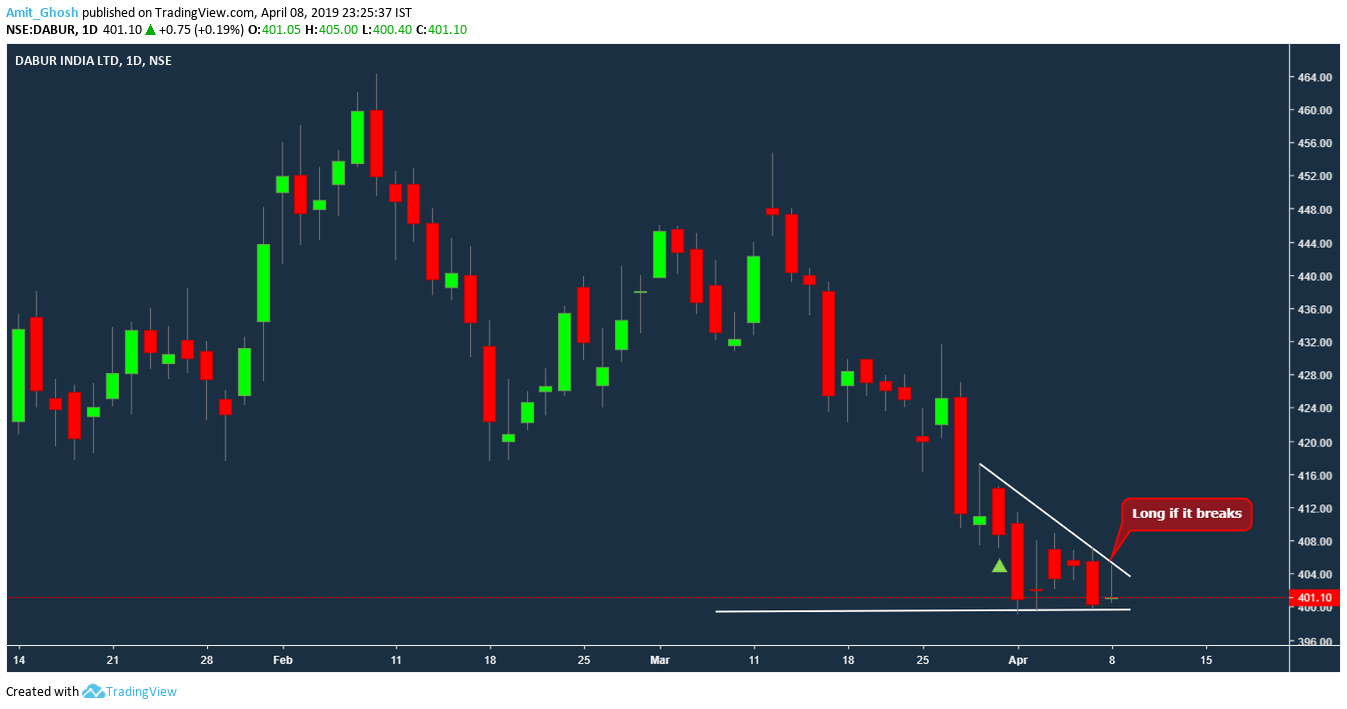 It fell today making a hammer which tells strong resistance. But think this way, you were walking a building fell into you. Like today, The market got crashed because BJP Manifesto came out.
BJP Manifesto is very good for the market. You have seen I had bought 29000 PE at 10 and sold 30400 CE early morning. 29000PE went to 20. 100% return. Why?
Simple – Buy the rumour, Sell the news. The market already went too much up. It needed a better manifesto to stay up.
But. Results season are coming. Think you're an investor. You're already screwed on the fall. Won't you take the bet seeing the results? If that comes good it will come up good.
Manifesto tells about doubling farmer income which translates into more expenditure. Dabur is an FMCG.
Dabur is at 400. It is strong support created by psychology because it is a multiple of 100.
If the hammer breaks; it will be a clean trade as it will rule out all the bears.
Descending Triangle Formation.
That's it. Betting on Buy-side only.
Case 4 – SREI Infrastructure
It is at decent support line (neckline).
Descending Triangle.
Risk: reward is amazing here. We shall bet for buy-side only because of the strong neckline. Even if sell triggers as per inside bar strategy; it will not be proper sell unless the neckline breaks (white line drawn in the first image).
If we wait for that proper sell, the risk will be too high.
Case 5 – MRPL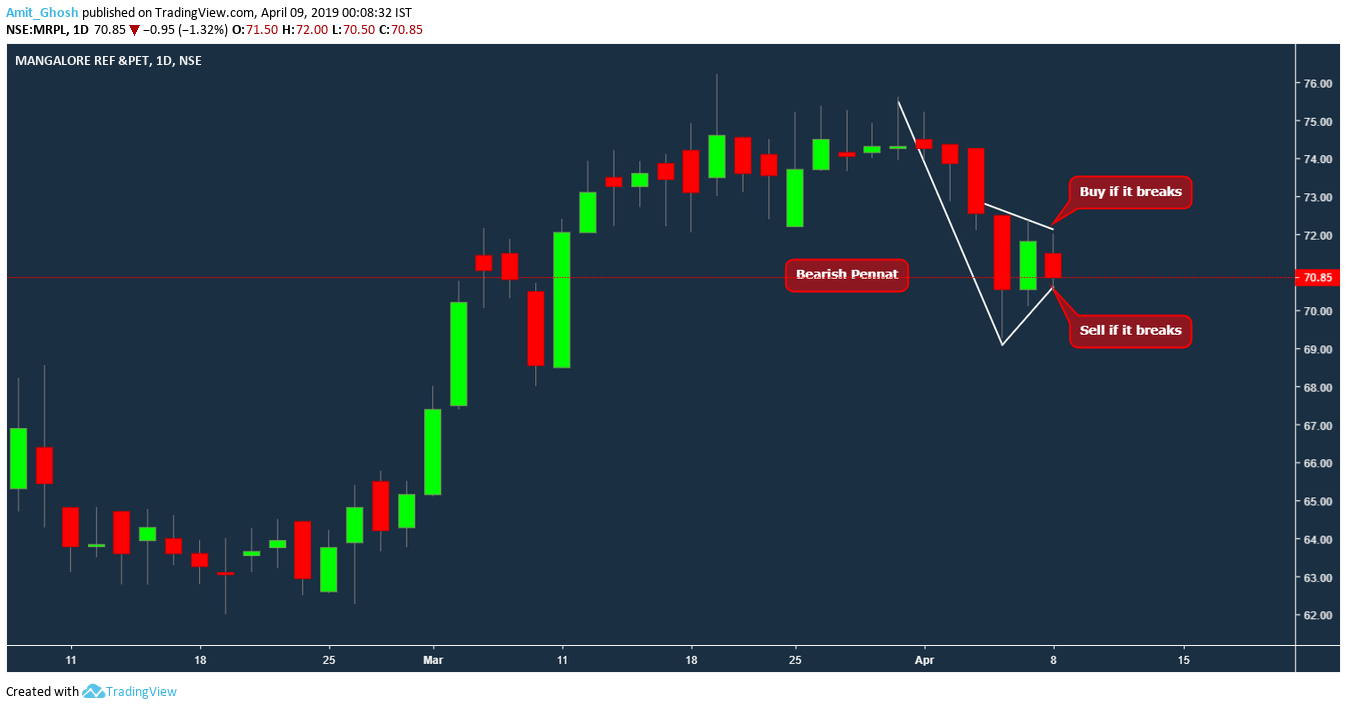 Bearish Pennant.
Double Inside Bar.
Crude shot up 2%. It is commodity stock related to crude. Something should definitely happen.
Now, let's remember Shriram Transport Finance's chart and the C point.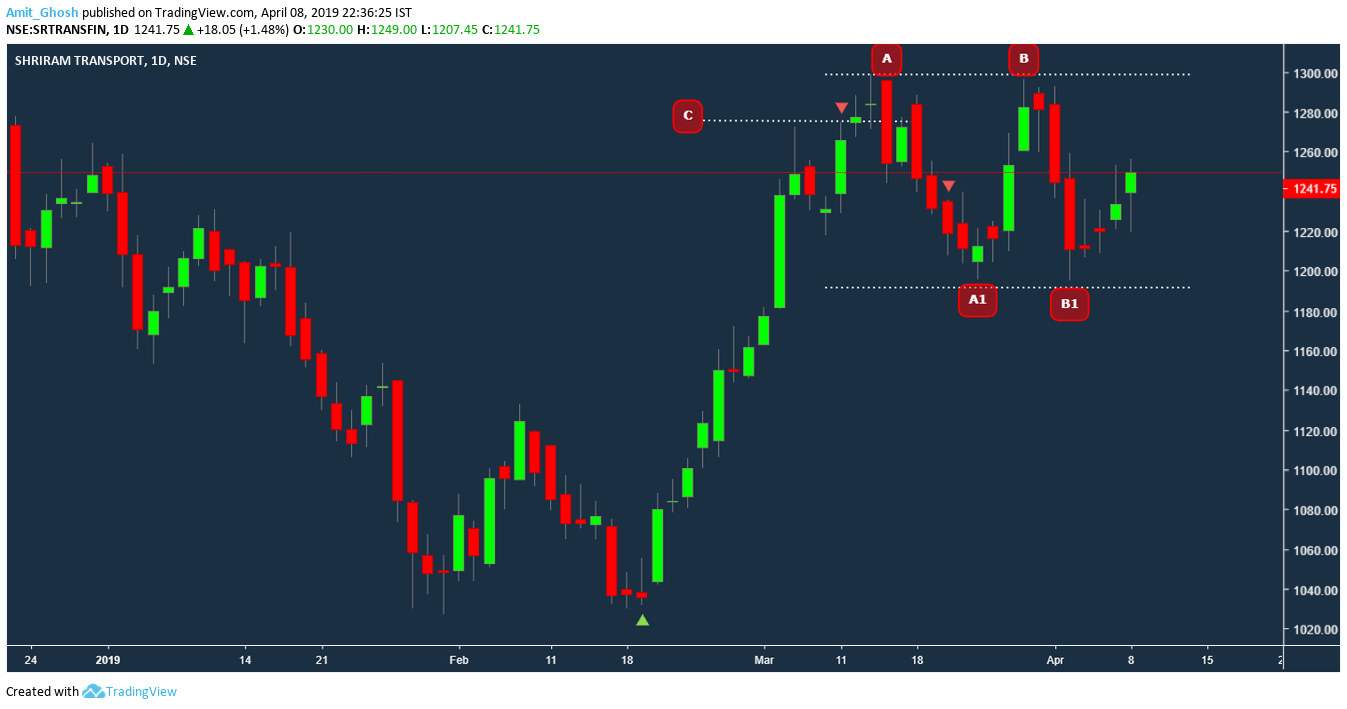 With the help of C point, one could have predicted the fall in intraday correct? Now, we do not believe in target-based method but these points can't be ignored. It is like fortune telling. And reversals will be too sharp that will cost you some mighty fortune.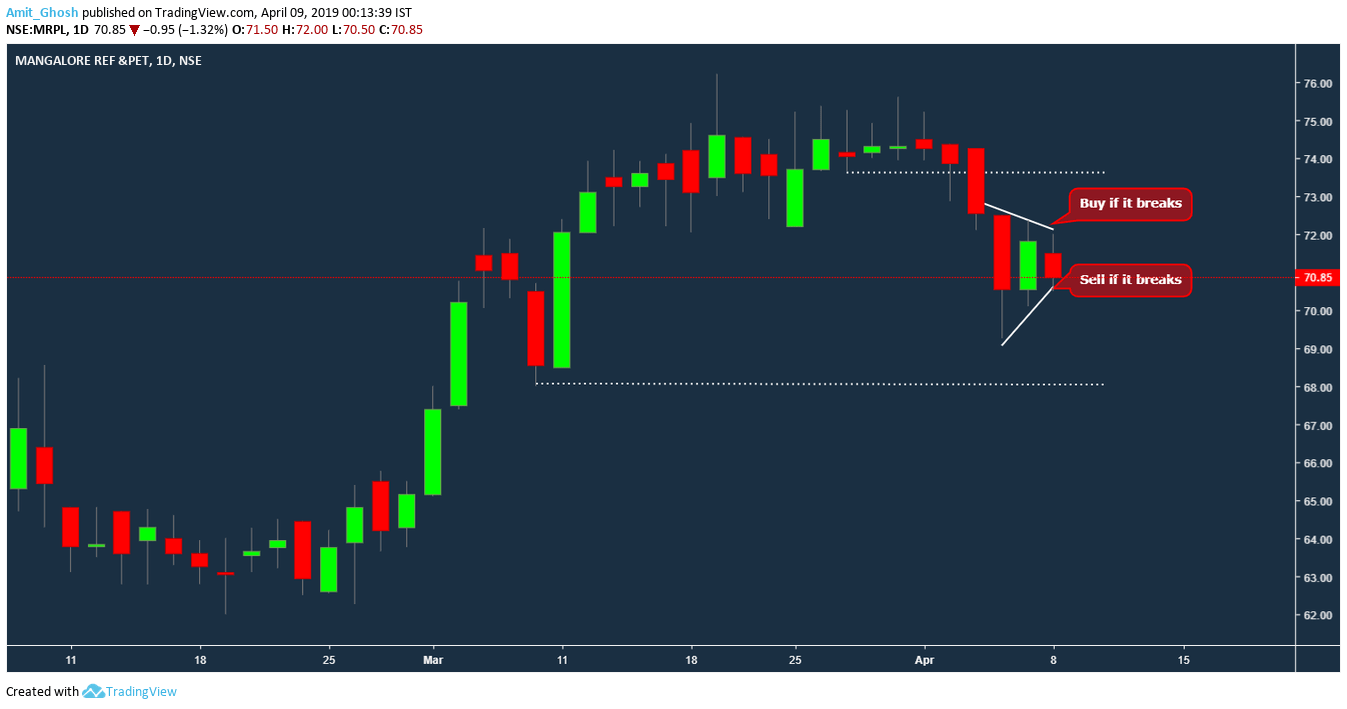 These are "C" points. Points where we think that target can be. Points where we should be alert. These are all support and resistance points.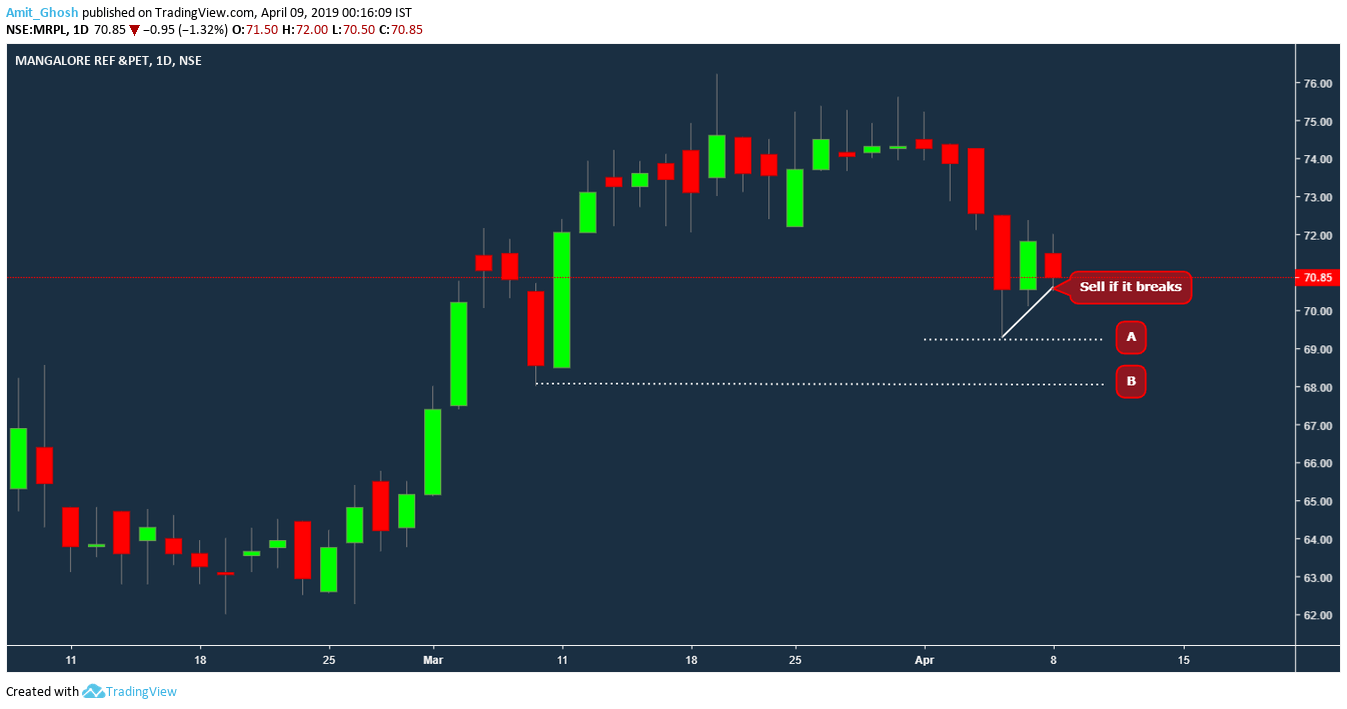 But the target points are arbitrary. Like in this case – A or B? Obviously, A will be acting as a mini-support too.