In the following section, we present two Equity Curves, which are a graphical representation of the cumulative Profit and Loss (P&L) over time.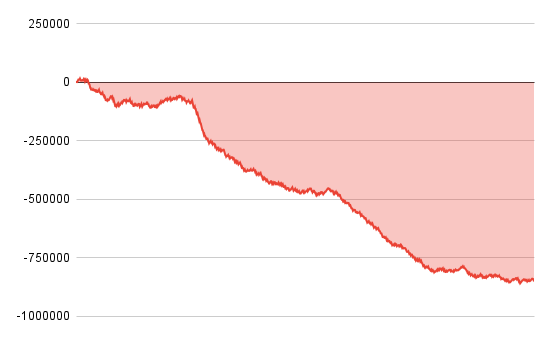 This curve is a result of deploying the strategy on Reliance, a prominent company within the Indian Stock Market.
It's worth noting that Reliance holds a unique position as one of the most liquid stocks in India, and its diversified nature allows us to liken it to an index due to its widespread influence in the market.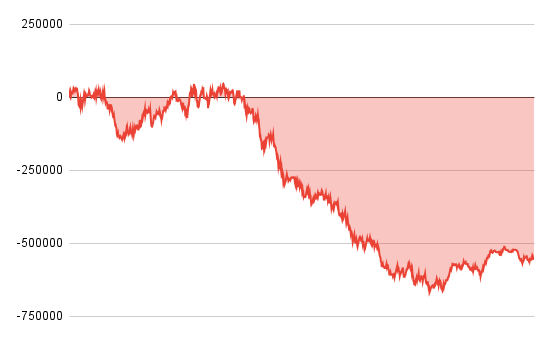 The presented Equity Curve has been generated through the deployment of the strategy on Vedanta, a distinct company within the market. Vedanta, characterized as a mining company, exhibits a notable correlation with commodity prices. Moreover, a significant portion of Vedanta's valuation derives from its holdings in various commodities.
It's particularly interesting to note that W.D. Gann was primarily renowned for his expertise in trading commodities. Commodities, as distinct from stocks, possess unique attributes that make them a distinct asset class within the financial landscape.
They tend to be less susceptible to manipulation, owing to their inherent market dynamics. Unlike stocks, where a multitude of events can influence performance and where the lifespan of companies is often limited, commodities remain enduring assets, with none facing the risk of extinction. This enduring quality of commodities adds an intriguing dimension to their appeal in the world of trading and investment.
We are essentially wagering against the efficacy of the initial interpretation of the strategy, expecting it to perform suboptimally.
It's particularly intriguing to note that our journey of exploring the traditional and widely adopted strategy has led us to the discovery of a profitable alternative.
This process has involved challenging the effectiveness of the original strategy and, in doing so, has illuminated a more successful path forward.
However on a different note, here is another observation –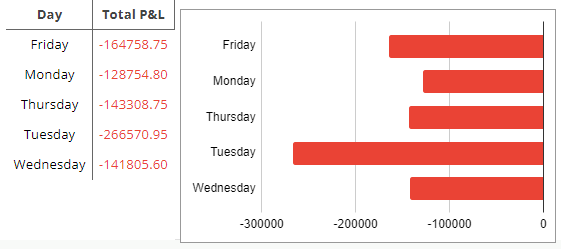 The above data is from Reliance's and the below data is from Vedanta's.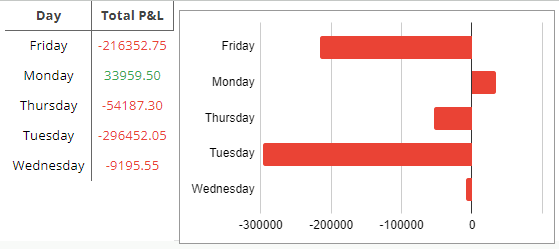 In both cases, it's worth highlighting that Tuesday consistently stands out as the day when the strategy incurs the highest losses, closely followed by Friday. This observation implies that our contrarian strategy should ideally yield the most significant profits on these particular days.
However, it's essential to exercise caution when interpreting these results, as achieving such precise historical patterns may have limited probability.
The fact that our backtesting only covers a four-year period means that the sample size is relatively small, but nonetheless, this observation remains intriguing and merits further investigation.