Nemish S Shah is considered one of the India's top ten public shareholders.
Mr. Nemish Shah is the co-founder and director of Enam Securities, one of the most reputed and respectable holding companies in India. Nemish Shah being media shy was not even present in any press conferences even after Axis Bank took over his firm.
After ENAM merged it's banking and broking operations with Axis Bank, he became involved in managing the firm's treasury operations in the same banner of ENAM Holding's Pvt. Ltd.
The focus of Nemish Shah's Portfolio is on long term investing in the Indian equity markets.
He employs a fundamental bottoms-up research approach to identify high-quality businesses, that are structurally well-positioned, have sustainable competitive advantages and execution capability for consistent long-term growth.
In few words – He is a value investor. But how does he find the right stock applies value investing in Indian Market?
Nemish Shah's Investment Strategy
Company Management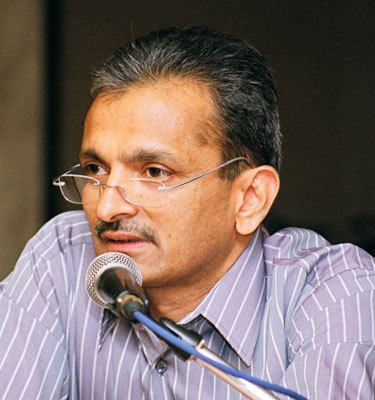 After a prolonged brief time Forbes India managed to get an interview with Mr. Shah where he openly discussed about his investment philosophy. Acccording to Nemish Shah, In India the only crucial difference in choosing investments from the rest of the world is – You need to look at the quality of the management closely.
As long as the management is focused and understands allocation of capital, he is comfortable with the business.
In fact, Shah has ignored many companies where the management did not give him the right vibe. But how he analyses stocks. He bought Asahi India Glass Ltd in a perfect time when the company share price was deeply undervalued and it went up straight. But why Asahi Glass? That's another story!
Here is his principal
If the return on capital employed (ROCE) numbers are less than nine percent, the company is a wealth destroyer. What is the point of being in the business if you can't generate a sustainable ROCE.
Also Shah doesn't like the cases promoters are constantly raising capital and hence the equity results in dilution. What's most important to him is how the fund's future growth is planned.
Here is an example with infrastructure stocks sector. Promoters took money on high traffic projections, low interest rates and quick completion of projects. In effect, they left very little room for error.
But if any of the projections go wrong, the company would have a hard time paying off its debt. Shah does feel that companies in sector like this may suffer from external problem affecting the debt. But he believes if the management is good, it can find a way to survive and grow in that market.
Take commodities companies like JSPL (Jindal Steel and Power Limited) which had a market cap of Rs 13,545 crore and was priced at Rs 156 per share on January 14. The stock was available for Rs 2 in 2001. It has delivered a return of 37 percent annually against 15 percent for the index over the last 15 years. He gives credit to the company management for such a stellar return.
Infosys and Yes Bank
Till 1900s, companies weren't obliged to report their earnings more than once a year. Companies weren't interested to meet with analyst so analysts used to focus on questioning dealers and customers.
In 1993, Infosys's changed everything declaring results every six months and later, every quarter. This changed things in motion and regulators ensured that companies must declare their quarterly balance sheet on regular basis.
Guess who is responsible for Infosys IPO and Yes Bank IPO? ENAM!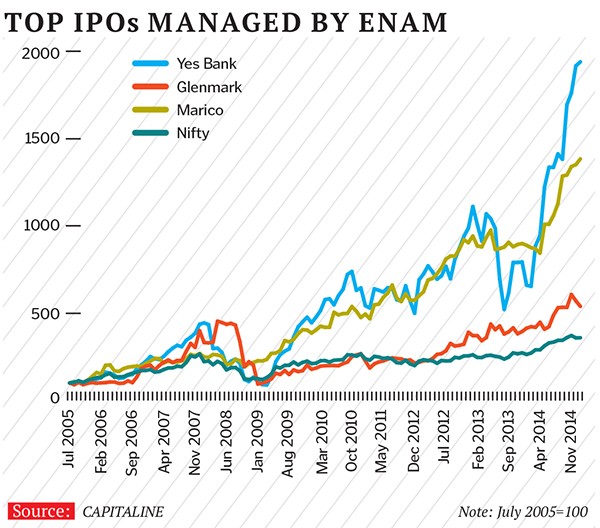 Nemish Shah worked high hard to ensure Infosys doesn't go under-subscribed. He was not a believer than Infosys would actually become a mega giant but he did believed on Narayan Murthy's management.
His team at ENAM had to convince a lot of people to invest in the company.
After few years IT industry went through a dot com boom which threw out most of the IT companies. Infosys survived. Nemish credits Infosys' success to quality of its management.
E-commerce Industry
He sees a similar kind of valuation madness in the e-commerce business today.
Unlike conventional businesses, where the growth patterns are linear, ecommerce does not have a straight-line growth path. In that context, it is very difficult to challenge these companies on their potential numbers over the next few years.
This staggering numbers cannot be discounted to a present value, you have investors paying any valuation for them. However, Shah doesn't think valuations in the sector have reached a bubble as the potential size is so vast that "we may not even have wrapped ourselves around the true potential of the business".
So here is three things to consider for measuring a business –
Look at the size of the opportunity.

Clearly there is room for e-commerce business.

Quality of the management.

Majority e-commerce companies have forward-looking management.

Entry price.

Valuations may be stretched as the growth of ecommerce industry is non-linear!
Mr. Shah doesn't invest in tobacco, hotels and liquor as they don't fit in his internal philosophy. However, Nemish recommended – 'Berkshire Hathaway Letters to Shareholders' when he was asked to recommend a book reflecting his investment philosophy.