To demonstrate the scalping strategy I first present you two types of day traders from Zerodha OpenTrade – 
In OpenTrade Zerodha allows you to follow real-time trade updates from profitable traders to improve your trading decisions.You can pick and follow traders based on their trading style & verified profitability report.
Here are two-day traders –
Hydra – This guy opens the position mostly at the beginning of the day and books profit at the end of the day.
Ursa Major – This guy does scalp trading. His Scalping Strategy earns him (well loses too) a huge chunk of money in minutes and is very hard to follow due to lots of execution of trades.
Scalping Strategy
Scalping strategy requires all cards of your knowledge on trading.
It requires a higher execution speed. It's hard to follow Ursa Major unless you are following him long and is accustomed to his methods.
It's a high pressure, high concentration game and demands a fine mood.
We have a slack channel where we Intraday traders have a separate thread to talk so that we traders can find good scalping trading strategy based on each other's experiences. You can join too!
What I personally do is scalping based on my own Scalping Strategy which I call The Bollinger Scalping Strategy and also make some trades based on ETNow TV. An analyst's live call does drive the market to a great extent.
The Bollinger Scalp Strategy
I will write what I bought and sold today based on this scalping trading strategy and will write exactly why –
Closed Idea –
I had some positions opened on Idea futures from last day. I had it bought after the news of Airtel and Idea merger. Sold at the range of 116–110. I closed them all as I needed the margin for today.
Shorted Jubilant Food –

My OpenTrade strategy executed it. Hydra sold it. My machine learning algorithm did a sentiment analysis on Twitter comments. Here is the code of the program that I tweaked. My trading algorithm managed to sell in a higher position.
Shorted Justdial Futures with leverage (MIS) –
Bollinger Scalping Strategy on 3 mins Timeframe. Read below to learn more about this strategy. Though I had already Justdial futures shorted.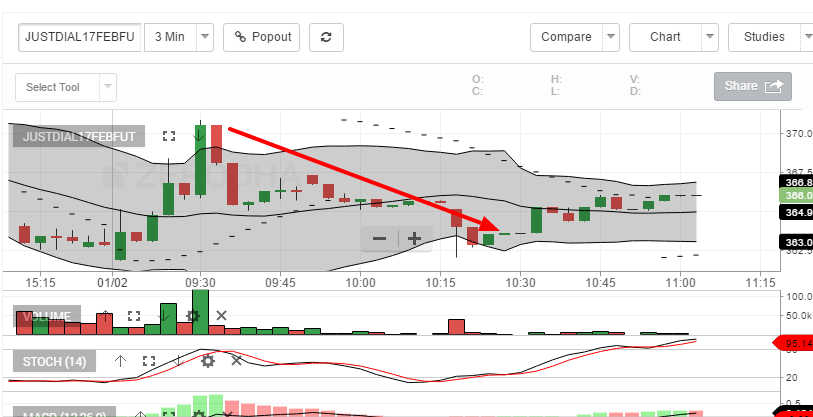 Scalped TCS and Wipro-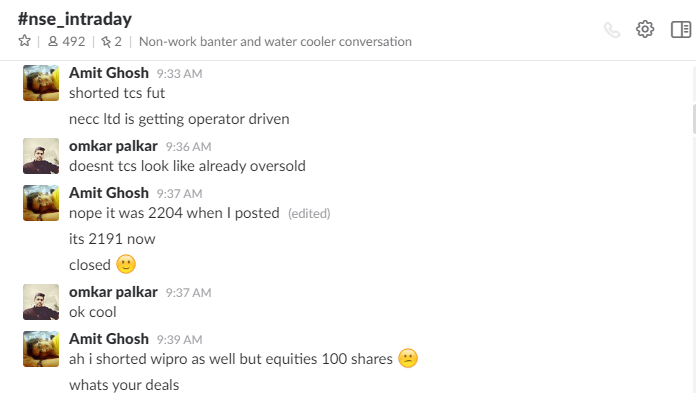 IT and Pharma sector were anyways going down. Shorted and bought back based on technicals.
Scalped Ajanta Pharma Futures –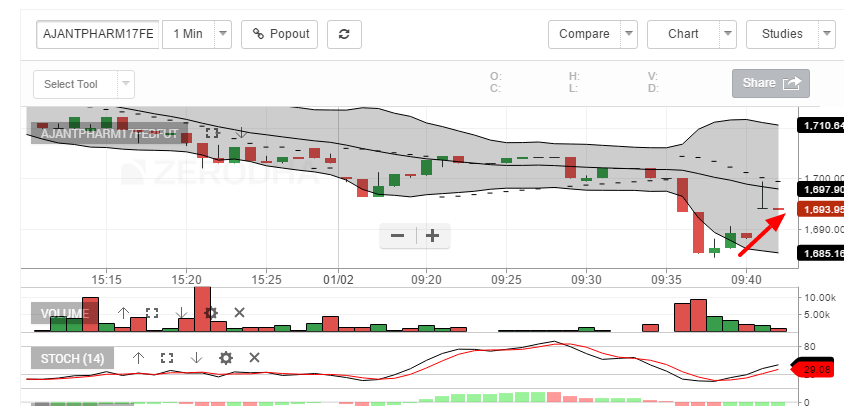 I am unsure of the term in Indian Share Market. But in Forex, it's called Fractal.
---
Shorted Indigo at 838 –
It got executed due to OpenTrade Strategy. Basically, I am bullish on Spicejet and bearish on Indigo.
Shorted NIFTY IT –

Donald Trump had already killed lots of legs of Pharma and IT. I shorted NIFTY IT at 9698 and 9675. The trailing stop loss bought it back by 9628–9630 zones.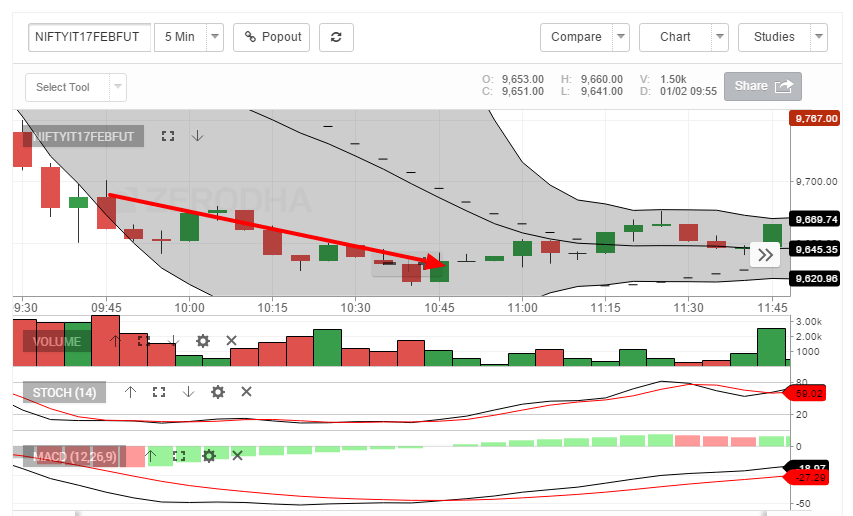 To improve the Bollinger Scalping Strategy consider reading this
---
Closed Justdial Futures Short Position (CNC Long Positions)-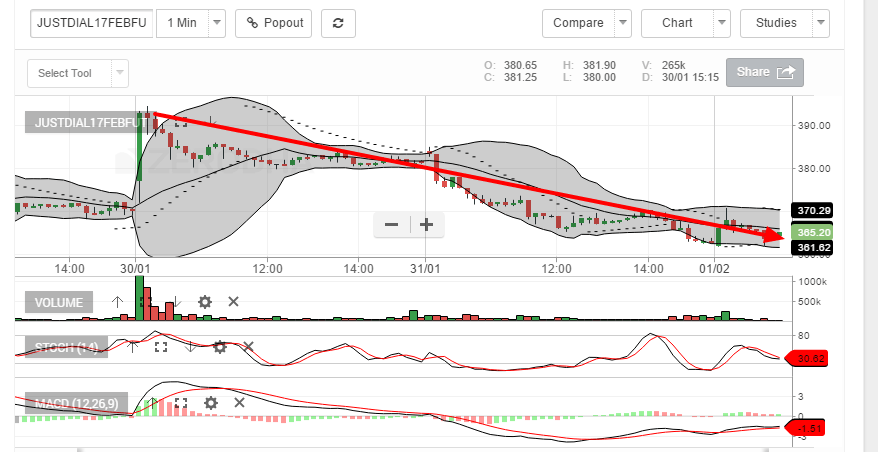 Shorted using the Bollinger Scalping Strategy. It was a long position and closed it because I wanted to focus on the budget. I sold around 10 lots long and 10 lots of MIS short positions as mentioned earlier.
Averaged Out Jubilant Foods –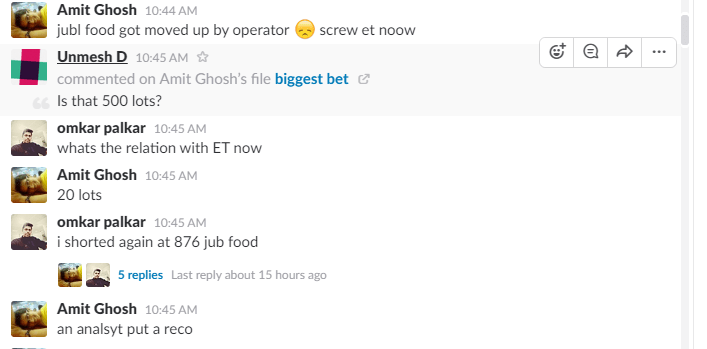 Though I had a small number of shares (50 shares) I was depressed as an ET Now analyst put a recommendation on it.
It shot up. I averaged shorting 1000 more shares.Well, the previous positions were always in profit, though. So did another guy who was following the stock.
---
Scalped ONGC Futures –
ONGC was moving range bound. I took a chance with my Bollinger Scalping Strategy. 20 paisa is still big for big lots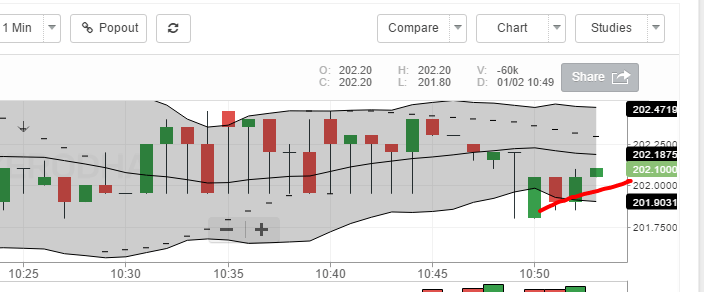 Scalping Nifty Options –
Bollinger Scalping Strategy applied to NIFTY8800 CE at various positions


and made a long CNC position on 76 because of Bollinger Scalping Strategy.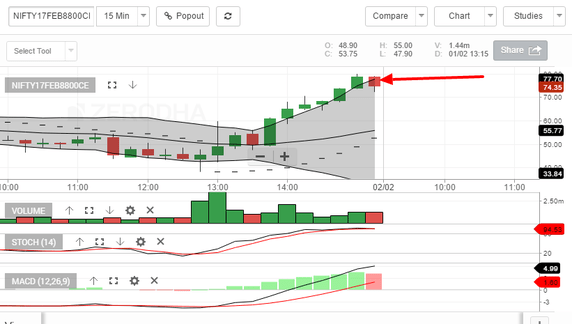 Anyways I am positive that it will go below 76 tomorrow. If it doesn't I will average out anyways.
Scalping Yesbank Futures
Meanwhile, I had scalped Yesbank Fut based on my intern's suggestion of looking at the futures at that time. But I closed short as I was bullish on BANKNIFTY.

Well, what are my budget trades – I was bullish on ONGC Futures on a monthly position and ITC on the short term but I had myself refrained from touching ITC as it always gets lashed at Budget.
If you've seen the budget live, Jaitley proposed a 10 point agenda.
There was no ITC there. Market expected lash. Hence bought ITC Fut and went long until day end. Increased stake when Zerodha restored Margins.
Tons of good news on banks. Bought SBI Futures at 264. For first few mins it tanked beyond 263 but it went hell up.
ET Now was yelling to buy Ashiana Housing but I had never heard of it. So I bought LIC Housing Finance futures instead. LICHSGFIN generally gives a loan to salaried persons and was already appreciated. Bought tiny lots.
The only loss trade is I had sold Axis bank equities from my holdings with a tiny profit. It was showing red all day long.
We have a slack channel where we Intraday traders have a separate thread to talk so that we traders can find good trading opportunities based on each other's experiences. You can join too!