VIX is the volatility index. Suppose,
Reliance is trading at 954. Tomorrow it has results. The market has already appreciated to a version. Now if the results come to the appreciated expectation then it will consolidate on a range. If comes bad than that, it can shoot down and vice versa.
So, the end story is – Its hard to bet such a fundamental event. So big institutions buy options to hedge their cash or futures positions. Options are the insurance.
They buy put option to protect the downside and call option to protect the upside. In short, they buy and that leads the prices higher giving a lucrative price to the short sellers as well.
This is why VIX is called the fear index too. The more the fear, the more the volatility, the more premium on options.
However, This is scene 1.
BankNIFTY was trading at 26250 at the early morning. Today, RBI announced a decision on interest rate hike at the very hour of 14:30.
After the decision is announced, BankNIFTY moved to 26367. Its 117 points up. So, the call options of 26300 should increase, right? (If a security moves up, the price of call options increase. Read more – Basics of Options )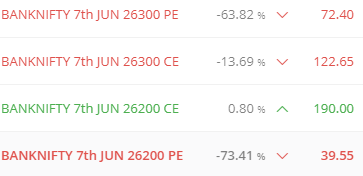 Also, 26200 call options were supposed to move up 100 points but it didn't. The premiums crashed by a huge percentage. So, VIX dropped the moment the results are declared.
One won't need insurance once he sees the outcome right? The demand for insurance dropped and so does the price of insurance. One can make 10–20% gain betting on this kind of mad events which is also highly dangerous too. Here goes the trading idea on this event – BankNIFTY Trading Idea – 7th June Series RBI Interest Decision – Theta
This is scene 2.
Here are few more cases which happened in the past months –
Event – What was happening was the biggest plunge for U.S. equities in more than six years. Concern inflation was seeping into the economy triggered a decline in the Dow Jones Industrial Average that reached 6.3 percent at its lowest level. The benchmark index for equity volatility rose to more than twice its level the day before, crushing bettors who'd gotten used to years of very low volatility.
Outcome – Vix rose to the moon. One hedge fund made 8600% betting on this event which had a probability of 1/5000 – VIX Surge Hands 8,600% Profit to Little-Known Hedge Fund
They were consistently losing since 3 years (They were buying call options of VIX each month) betting on this event. This is called persistence and faith in the system. Their PL looks like –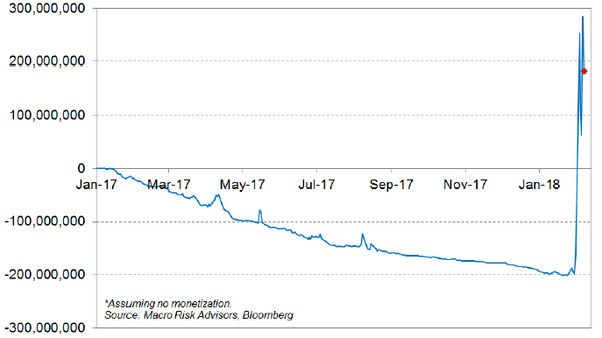 Event – Vakrangee, a recently highlighted scam company bought shares of P C Jewellers and promoter donated some of his shares through relatives. A negligible amount of shares. The stock price tanked 50%.
Outcome – P C Jeweller put options of one strike price rose 1800%. So if you have invested 1500 INR. Profit was 22500 INR.
Events when the VIX rises –
Elections – Even state elections like Karnataka Elections count.
FOMC Meetings – In case they have already told bad things in the last meeting.
Chances of War – North Korea and Trump's affair is nothing new.
Trump and his tantrums – Let's start with the trade war. He also goes stock specific.
CA resigning companies – This is an interesting pattern which is also a temporary cause in Indian Market now. After Vakrangee's CA resigned, stocks are falling of companies at a rapid pace the moment CAs are resigning assuming they are fraud too.
Company Results.
AGM of Big company – Let's start with Reliance. In Reliance AGM; Airtel, Idea, Dishtv, Suntv along with couple dozen other companies will give huge moves. Reliance is too big that it affects entire NIFTY.
News on index heavy stocks – HDFC Bank is called the mother of BankNIFTY. Any positive news on HDFC Bank alone impacts the BankNIFTY like anything.
VIX on different stocks and sectors –
There are small key events that move sectoral implied volatility (The VIX is the weighted average implied volatility for options with a 30-day maturity, found by averaging options from the next two expiration dates. ). Here goes some interesting one –
Resigning of key personnel. Infosys CEO resigns tanked the whole IT index.
Sudden movement on USDINR pair moves the entire IT index.
When IMD (India Meteorological Department) told rain is going to come early this monsoon, Escorts call options and Voltas put options shot up. Advance rain is good for Escort's tractor business and bad for Voltas' AC business.
Commodities – It's a perception that if commodities go up index goes down. This is due to most companies use those commodities as raw material. Like, Crude oil is linked with airline stocks. Here goes a case of Bodal Chemicals.
Technical Breakouts – If a stock or index does a breakout (or, vice versa) on upside then call option premium will be higher than the put option premium. Here goes an example –

The topic of the impact of VIX and trading strategies to profit our of this situations are quite vast. Let's conclude the discussion here.