This time my bet is on the downside. The current CMP is 259.8; If we sell here our stop loss is 263. With Fibonacci Retracement tools you can see where is our trade profit zones.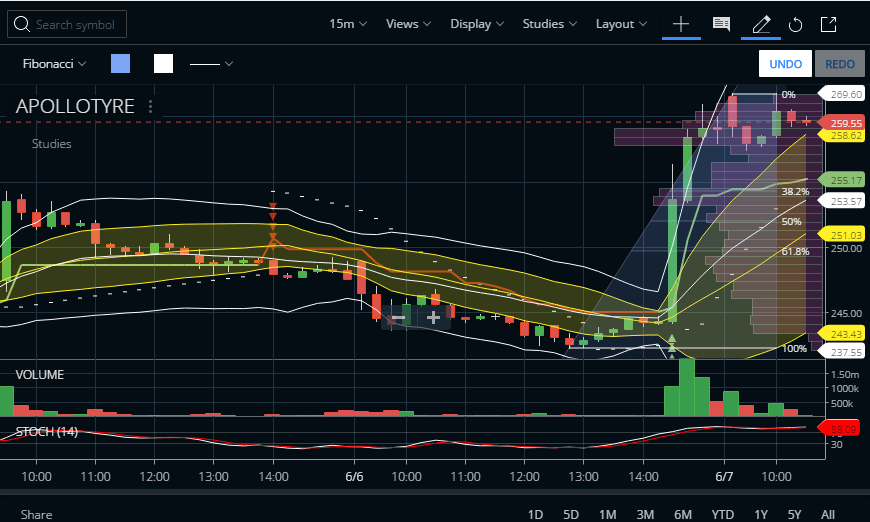 When Equity price was 259.8; Future's price was at 259 –

Our Stop loss has been hit. We must respect stop loss in intraday setups but the trade opportunity is still valid seeing upper time frame. Here is the stop-loss hit –

Now it made a spike and we entered back on 262. Thanks to our stop loss we saved 1.4 points which amount to 4200 INR. Stop losses always help us in this kind of spikes as well as traps too.
Then Apollo Tyre fell; so did Tata Elxsi –

Money has been made!
Here is an example of a failed case of Fibonacci Retracement where the stock shot up due to its strong fundamental correlation with rubber price

But if you have a tight stop loss, this method works profitably. You can backtest on stock on several timeframes. Refer this –

This is 61.8% retracement! It is always best to use Fibonacci to improve your exit strategy rather than entry strategy as Fibonacci doesn't say when the uptrend (or, downtrend) will stop.
Q. In this case it retraced from 0.236. So according to fib, 0.236 sets the trend and 0.382 confirms the trend. So most of the cases if breaks 0.382 then chances are high to reach 0.618 and 0.786
A. It's a method to improvise the exit strategy.
Q. Is it ur experience say that it is better as exit than an entry strategy
A. Nope. It's all fat books say. BRS, 3BB are entry strategies.
Q. So combine it with price action?
A. Combine everything with everything! Price action is created on VPA levels as well as fib levels; in short assumptive support and resistance levels. That's the definition of price actions. 1550 is handle as well as VPA level in Elxsi; so 1540, 1560 is the price action point which will either trigger it up or down
Ok, look at this chart –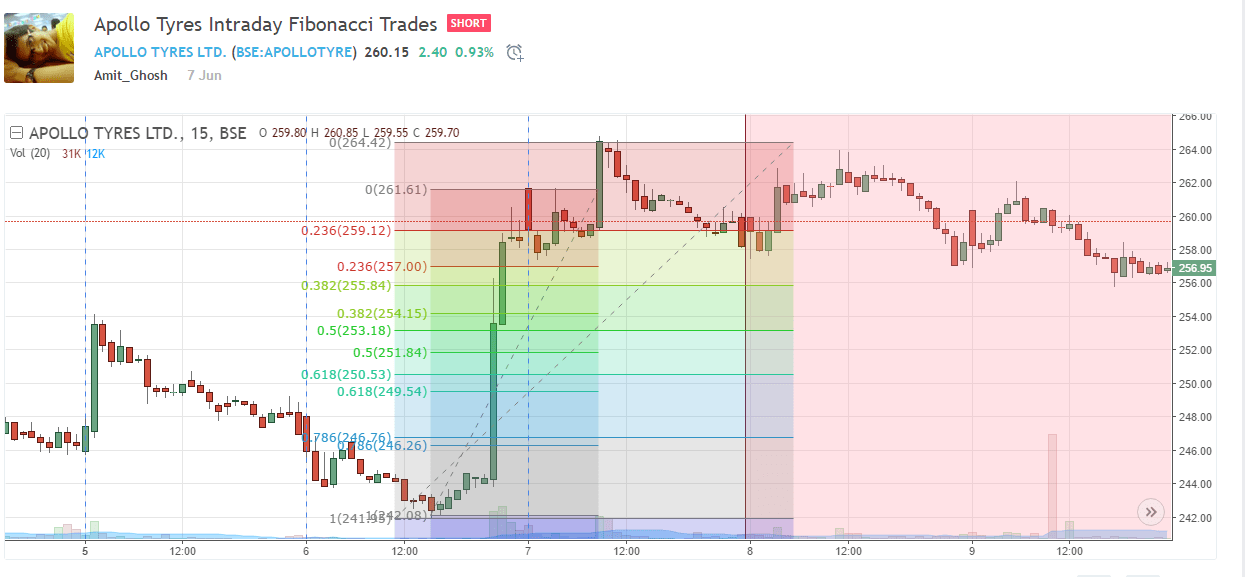 This is the trade done today. But you can see how the candles are consolidating within the Fibonacci channels.
Today our stop loss was hit due to price action and it was immediate upwards move and we caught it again and you can see the retracement now. However, it closed below our entry point but we made 1.4 points more thanks to our stop loss. Here is another fellow slacker's profit on Apollo Tyres –

When SL is hit, you need to see it from higher timeframe to ensure if it is still valid.
Shorter Timeframe –

Longer Timeframe –

This discussion happened on 7th June 2017 on Unofficed Chat.