After the trades of 18th October, my accidental illness didn't allow me to update the trading diary on my BankNIFTY trades.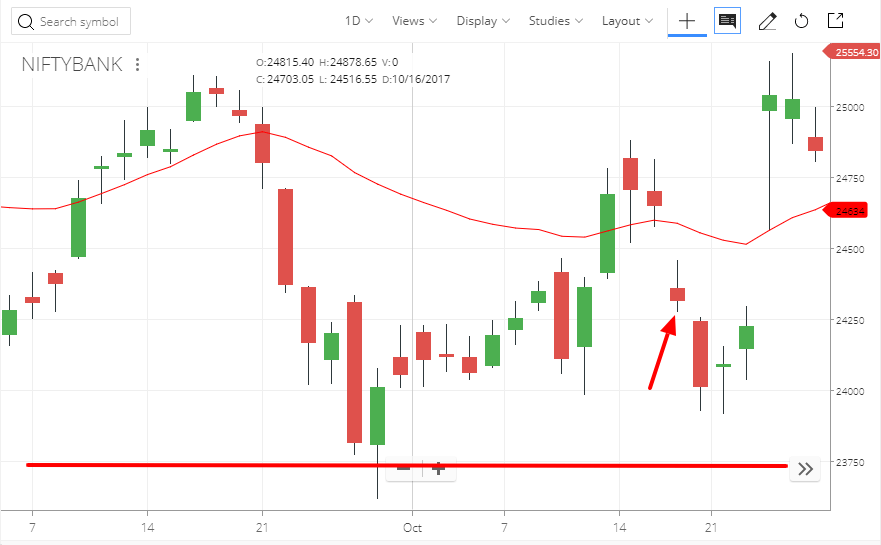 The marked arrow here is the candle of 18th October i.e. expiry day. The wick on the upside shows huge pressure from the bears. So there was no position taken on the next day of 19th as it was the time of muhurat trading.
It basically stunned everyone. In that one trading hour, BankNIFTY just dropped like anything and ended 229 points lower. But it showed extreme bullishness when it went to low of 23923 which is like 300 points in the one-hour trading session.
Note: the Last close was at 24313. BankNIFTY opened gap down. If we account that it can be considered as 310 point fall!
BankNIFTY futures were available at a good premium because unlike BankNIFTY which recovered; a sane trader won't buy BankNIFTY in this avalanche to avoid a tensed weekend.
But due to the sudden fall, Vega had increased the price. Hence sold 23800 PE at 60 as the support of BankNIFTY (as you can see from above image) is at 23750 but no CE leg or another PE leg was taken.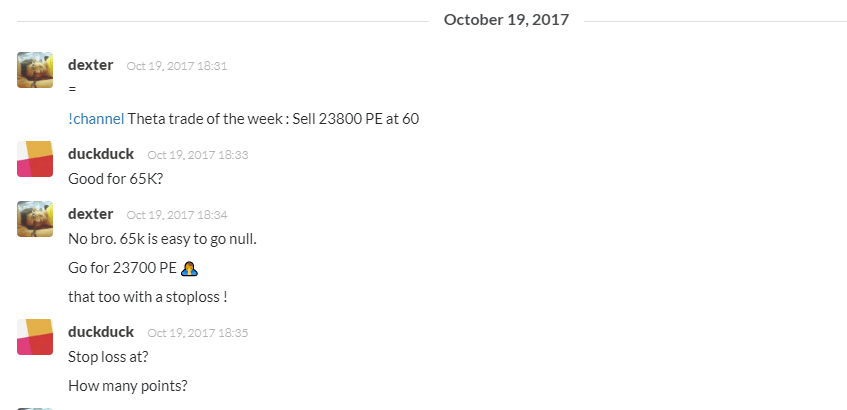 Refer: https://unofficed.slackarchive.io/dr_theta/page-26
The reason for not taking the hedge CE is the fall was based on European market's weakness which most of the time stays temporary and anyways vega squeezed out CE's price.
And, another reason is – It was HDFC Bank's results on Tuesday. HDFC bank is BankNIFTY itself considering its weightage in it. Last time Fedbank's good results shot Bank NIFTY to 24800. All banks got appreciated for good results. Then Axis bank happened. All banks got sharply down anticipating bad results. Now Tuesday it will all depend on HDFC Bank.
In the worst case of resistance break, we shall be taking BankNIFTY future sell position to hedge that beyond that breakeven point of 24740.
On Monday it formed a Doji (See the chart below) but the good news was it had an amazing low wick showing bullishness and strength of the support area. But Doji is indecision and we got a stop loss here which is the low of the Doji.
Breaching low of Doji like this can cause a downside price action as it shows bulls have failed. Breaching high of Doji can trigger an upside price action. BankNIFTY vega was still high as HDFC Bank had results on the next day.

On Tuesday we sold 24000 PE at 70 as the high of Doji was broken.
Refer: https://unofficed.slackarchive.io/dr_theta/page-27
Refer: Monday's Doji
Finance minister will announce something on the day end of Tuesday as per his twitter handle which is regarding helping PSU banks with money.
Hence, there is no downside on the meeting anyway as the market didn't appreciate anything on PSU banks on that scale and PSU banks are highly down anyways but NIFTY overall appreciate the entire news and ended green with a strong bullish candle second half after the news of meeting agenda came out.
On Wednesday BankNIFTY gapped up 758 points at 24980 and started falling which is imminent and people started to book profits. BankNIFTY fell to a low of 24560 and took a support on 24500 level and bounced back faster than the fall which showed heavy short covering.
The VIX was too high and the moves were erratic so no positions were taken and we didn't have any tension as our strike prices are far down.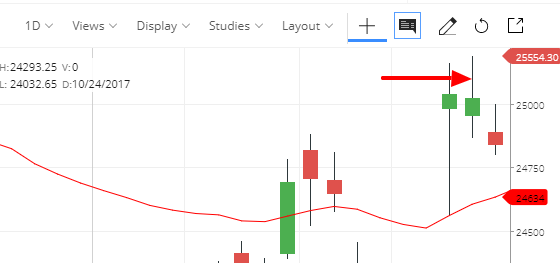 Refer: Thursday's bearish wick
On Thursday, BankNIFTY started to go up again but PSU banks are fundamentally shit anyways. So heavy short positions initiated there and it created a sell-off.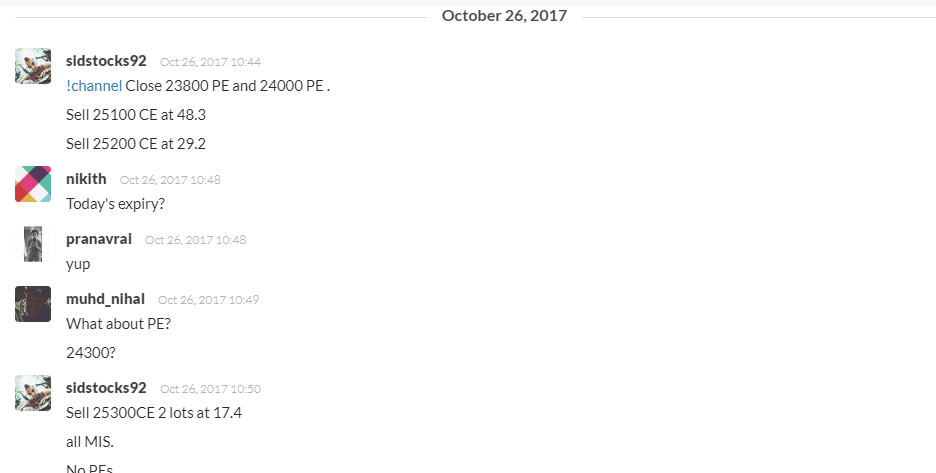 Refer: https://unofficed.slackarchive.io/dr_theta/page-27 (Due to my illness my colleague was sharing my positions)
Our PEs were priced at 0.5 as 1000 point fall is unlikely without a heavy fundamental trigger. We closed them and opened four positions in MIS –
Sell 25100 CE at 48.3

Sell 25200 CE at 29.2

Sell 25300 CE at 17.4

Sell 25300 CE at 17.4
Basically, the bet was based on – BankNIFTY should close below yesterday's close i.e 25035 and 25100 strike price for additional leg room.

BankNIFTY showed clear weakness and hence went more aggressive at the end and closed 2 lots of 25300 CE at 2.4 and 25200 CE at 7 and open 25100 CE 3 lots at 24 to maximize the profit.
To my surprise, it did close below yesterday's close at 25022. It's not science; just a behavioral bet.
Net Profit/Loss
= (60 – 0.05) + (70 – 1) + (48.3 – 0.05) + (29.2 – 7) + (17.4 – 3) + (17.4 – 3) + (24 – 0.05) + (24 – 0.05) + (24 – 0.05) + (24 – 0.05)
= 324 points ~ 324*40
= 12960 INR.
Net capital deployed
= 130000 INR.