This is the archive of the trades we have taken in theta on my trading community's #dr_theta channel.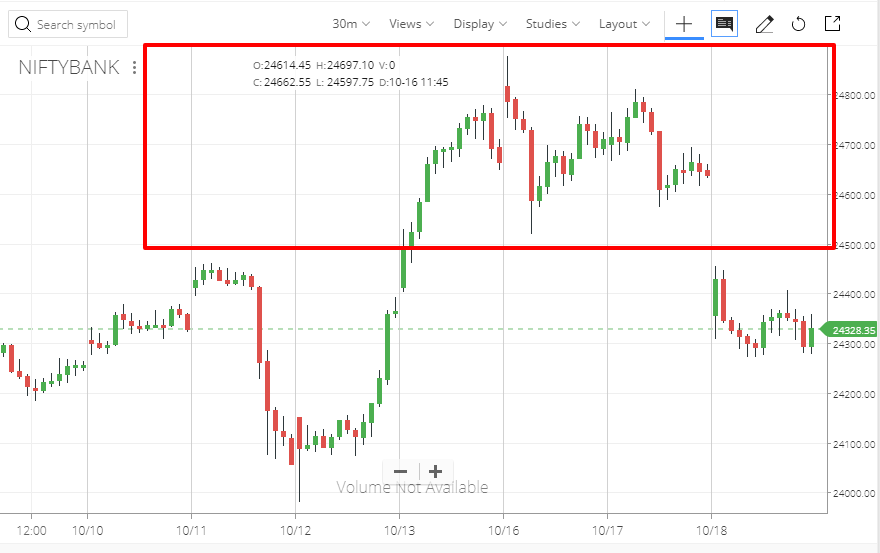 This was a results season and the market was discounting positive news (Today NIFTY did not fall too despite NIFTY Bank cracked a lot. Reliance and other stocks kept the market up overall). Also, Axis Bank (whose results was due pre expiry night) was expected to post amazing profits; so I thought the support will hold at 24500.
Trade Setup
Here my trade setup for a 1.5L quant is –
Short BankNIFTY 18 Oct 24600 PE at

117.7

Short BankNIFTY 18 Oct 24700 CE at

95.3
This is called Option Short Strangle Strategy. I use this on high implied volatility scenario when I am fixated on a range.
Payoff Graph
If you have short, your price should be slightly different than mine because the market is always moving. Use our Option calculator to calculate your breakeven points in case you sell later. Calculate your margin needed using Zerodha Brokerage Calculator or Upstox Brokerage Calculator and write there to calculate the maximum profit.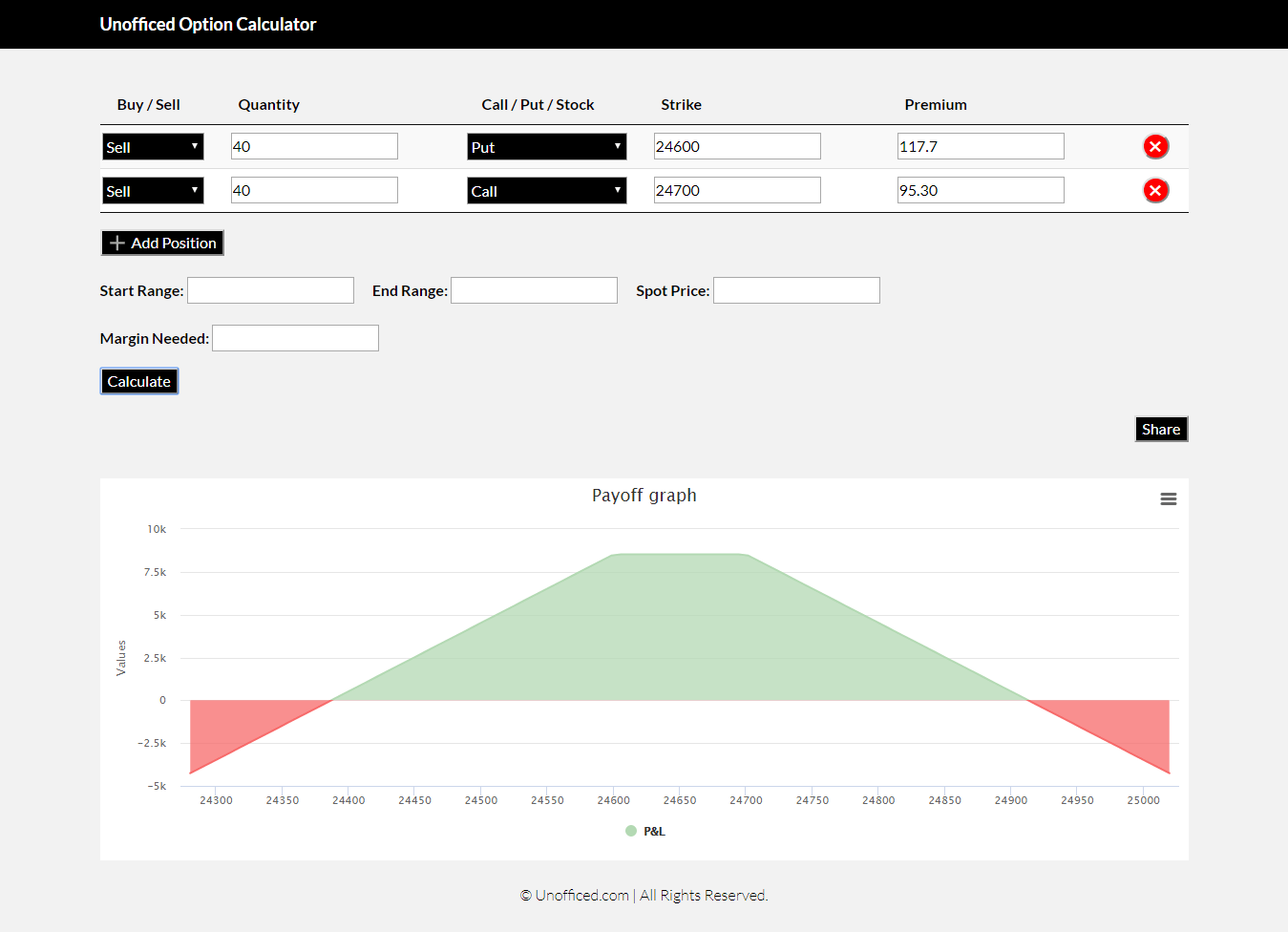 I was betting the range in 24400 and 24900 which is a quite decent range.
Update:
Due to the Axis bank's positive news; I was thinking it may break the upper range to taste 24500 as NIFTY was sustaining the 10200 level strongly.
So yesterday I booked 24600 PE at 44.25 and shifted to 24700 PE at 71.
Update:
Today is the expiry because Thursday its NSE holiday here. So I converted all to MIS and –
Sell 24500 CE at 34.2
Sell 24300 PE at 15.1
BankNIFTY expired at 24313 making both of them 0.
P/L this week: 
Sold 24600 PE at 117.7 and closed at 44.25 with a profit of 73.45 points
Sold 24700 PE at 71 which expired at 355.1 with a loss of 284.1 points
Sold 24700 CE at 95.3 and closed at 1.05 with a profit of 94.25 points
Sold 24500 CE at 34.2 and closed at 6.4 with a profit of 27.8 points
Sold 24300 PE at 15.1 which expired at 0 with a profit of 15.1 points
Net Profit/Loss = 73.45 – 284.1 + 94.25 + 27.8 + 15.1 = -73.5